The Counseling building closed: so where are the counselors?
After persistent flooding problems made the Counseling and Advising Building a health hazard, four college services are adapting to their temporary new home in the Mannakee building, considerably further away from the center of campus.
Counseling & Advising, Disability Support Services (DSS), Public Safety, and the Maryland Veterans' Affairs Disability Claims offices have all been moved to offices on the second floor of the Mannakee building since the end of last semester.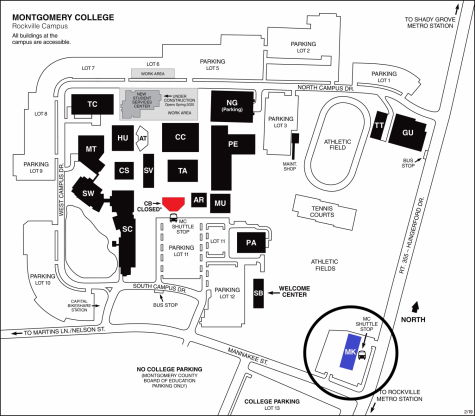 Counseling, DSS, and Public Safety heads all emphasized that the move has not compromised student services in any capacity. "We're really not that far away," said Marcella Karp, Rockville counseling & advising department chair.
"Our focus is the students […] we're still here for them," said Sue Haddad, Disability Student Services department chair.
Counseling, DSS, and Public Safety are slated to move into the new Student Services building around January 2020, currently under construction, according to college communications sent out Dec. 10, 2018. "We are reminding ourselves that it's temporary," said Karp.
The response time of Public Safety has not been compromised, according to Rockville campus deputy director of public safety, Robert McCullagh, Jr. Security officers spend the majority of their shifts patrolling on campus, so the move to Mannakee does not change the essence of their job.
Within Public Safety, security dispatch was the main service moved to Mannakee. It was convenient to merge dispatch and student ID services' locations, McCullagh said.
Since the number of counselors exceeds the intended capacity of the space provided to Counseling & Advising in Mannakee, faculty have been adjusting from offices to hard-walled cubicles. Those with offices have shared their space with those without when confidential conversations with students occur, said Karp.
Haddad described the pros of the new location, such as greater privacy and better parking, but also acknowledged cons, especially the distance of the Mannakee building from the center of campus.
DSS students used to be able to walk right by the building and talk to a counselor, Haddad said. Now that the distance is further, visits must be more intentional.
The DSS Academic Support Center is now located in the Ackerman Center in Science West, which has also caused somewhat of a disconnect for the DSS faculty. Where new DSS students could previously be introduced to the center across the hall from the main DSS offices, now faculty must direct them across campus and hope they find the location.
Haddad also mentioned that the distance does not pose a direct problem for most DSS students and that DSS counselors will go to meet students with mobility impairments at a more central location on campus. The counseling department also meets with students on campus if it is more convenient for them.
However, despite the Mannakee building being technically accessible, it is not necessarily convenient, according to Haddad.
Xiao Yang, a Montgomery College student working as an aide in the counseling department, described the new offices as a good environment in which to house the department but said the distance from campus was inconvenient. In order to go from work to class, he drives from Mannakee parking to repark closer to the center of campus.
In order to adapt to the new location, the counseling and DSS departments have made efforts to make students more aware of the changes. Haddad said that the volume of email and phone communications has been increased, and Karp said counseling created postcards with a map on it. Karp also mentioned creating an outreach team to help address the new disconnect caused by physical distance.
"There are some things we can't do anything about, so we focus on the things we can change," said Haddad.
Some students get confused looking for services. "We typically ask students, 'did you have a hard time finding us?'" said Haddad.
Yang said that the current Student Services building sometimes incorrectly directs students to the Mannakee building for services actually housed in the South Campus Welcome Center, which is not as far away as Mannakee is. Karp also said that the Mannakee and Macklin Tower buildings are confused (abbreviated MK and MT, respectively).
McCullagh said that a parking officer is regularly stationed in front of the CB building near the MC shuttle bus stop, who redirects students looking for services previously housed in CB.
For the Maryland Veterans' Affairs office, the move was a positive one, according to Joanna Starling, Combat2College program adviser. Since the MDVA Disability Claims office serves any U.S. veteran regardless of MC student status, its new location closer to Rockville Pike, is actually a more accessible place for the wider community to take advantage of the state agency services, said Starling.
Most Montgomery College-specific veterans' services are still located centrally on campus.
Leave a Comment