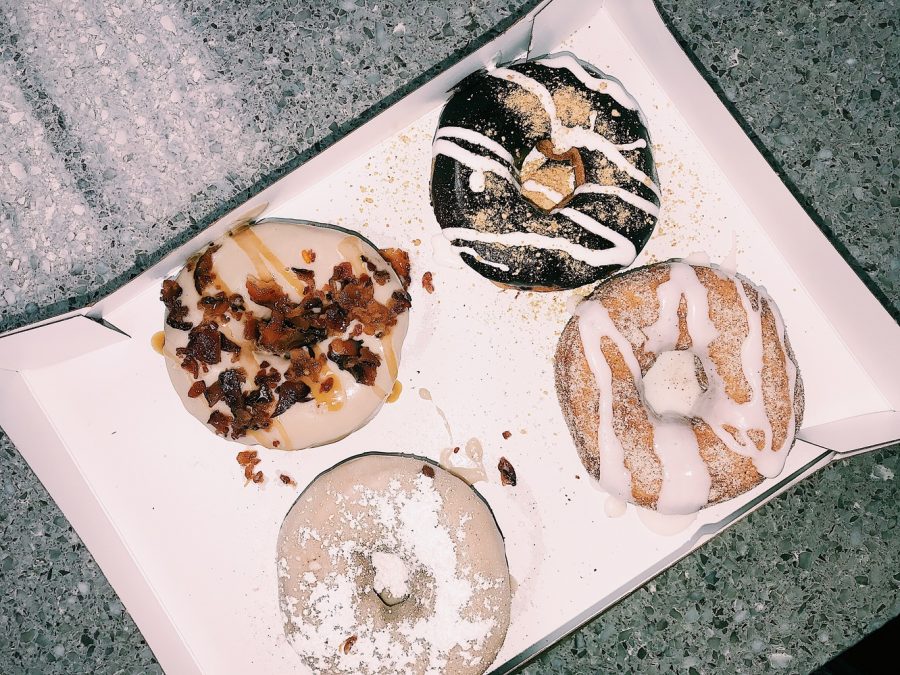 FOOD PORN: Duck Donuts
If you're looking for the best doughnut shop in all of Rockville, look no further: Duck Donuts is where you should be buying your doughnuts from. I know as a Dunkin Donuts fan, this is hard to come to terms with, but by far, Duck Donuts win, because of their creativity and style, and fluffy texture of the doughnut. These three reasons are why they are better than Dunkin Donuts, despite the fact that Duck Donuts does not serve the best coffee. Dunkin Donuts wins in having better coffee.
Duck Donuts bakes their doughnuts fresh right in front of your face, they fry them in hot oil and then allow them to cool, and that's how they become so fluffy and moist. After the doughnuts have rested, they begin to style and assemble them in all the ways the customer would like. I decided to partake in their fall collection of doughnuts.
I ordered four doughnuts, and each was amazing. The first doughnut I ordered was a maple bacon doughnut–I know that sounds like way too much to put in a freaking doughnut, but it was absolutely amazing. Their maple bacon doughnut literally tastes like the best breakfast you ever had. Imagine the fluffiest pancake, so moist, and warm; but in doughnut form with maple glaze and just enough fresh, chopped bacon to crumble on top and a drizzle of maple syrup. They also make their bacon fresh and ready for each and every doughnut. The bacon on top allowed this doughnut to have the perfect sweet and salty combination that people wish to have in a doughnut.
The next doughnut I order was the s'mores doughnut. I was stunned by how fluffy each doughnut was and I enjoyed every bite. The s'mores doughnut had melted dark chocolate all over it, crumbled graham crackers on top and white marshmallow icing drizzled perfectly over it.  It tasted exactly like a s'more that you would make yourself at a campfire. When I was in the store, I noticed how focused each of the staff members were. They created each doughnut as if it were art. They were in total foodie mode and enjoyed decorating each doughnut and served customers with a smile on their face.
The two other doughnuts that I ordered were the cinnamon sugar and maple icing with powdered sugar. Both doughnuts taste exactly like their names. The cinnamon sugar doughnut was warm and had a lot of sugar and cinnamon mixture all over it. This doughnut was good but a bit messy to eat because they had put drizzled icing all over it. The maple icing doughnut was very simple and I enjoyed it. The maple icing wasn't too sweet or overpowering, it was just right, and the powdered sugar didn't melt on top of the doughnut.
Overall, I would recommend that people try out Duck Donuts' fall collection, as it is creative, stylish (Instagram foodie worthy), and just fun to eat. It also wins because of how fluffy each doughnut is! Duck Donuts should be the place where everyone should be buying doughnuts for their co-workers in the office, a party, or just because any day. Duck Donuts receives a 5 out of 5.
Duck Donuts has locations in Rockville at 1327 Rockville Pike
and Gaithersburg at 511 Quince Orchard Rd.