Student Life Host Give & Get Help Fair
 The Montgomery College Rockville campus hosted an annual volunteer fair with a new twist on Wednesday Sept. 19. Named the Give & Get Help Fair, MC students and employees were introduced to volunteer opportunities with an added bonus of receiving information from services meant to support them as well.
Representatives from mental health, healthcare, performance art, rehabilitation, and environmental programs showed up in full force, lining the center campus walkway with posters and pamphlets highlighting their services and volunteering opportunities. The Wheaton Volunteer Squad showcased their firefighting gear; Warrior Canine Connection brought Florence, a service dog in training, who has her own Instagram; and the Student Life Service-Learning Program had a spin wheel for lanyards, t-shirts and other goodies with a raffle for 50 dollars toward the MC bookstore.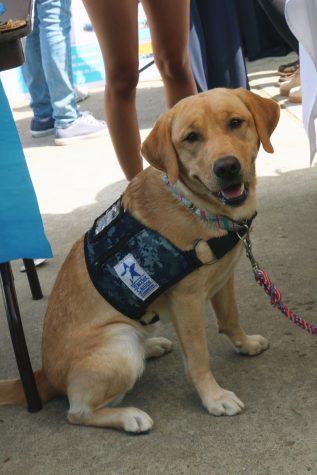 "The primary purpose of the Give & Get Help Fair (was) to connect students to give help to local organizations and MC programs needing volunteers," said Nik Sushka, Rockville Campus Service-Learning Coordinator and organizer of the event. "When our students and employees have positive relationships on campus and in our community, when we're working together to make a positive impact, we are stronger, healthier, happier."
"I like where it's at because it's in the heart of the community and I also really like how each station is set up," said Sasha Laredo, a pre-nursing freshman. Laredo is interested in a program offered by The Wheaton Volunteer Squad for volunteer EMTs. "I'm really interested in the medical field and they talked to me about how I can become an EMT and it's no charge."
More than just being another bullet on a resume or college application, volunteer service builds bonds, improves self-esteem, builds networking communities and gives opportunities in new skill areas. Some volunteers have gone on to work within the organizations that they volunteered for during their time as a student.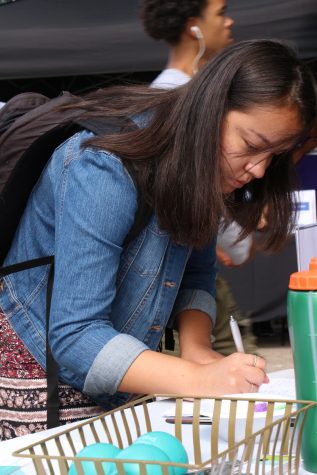 Antoinette West is an MC graduate who now works with one of the nonprofits that offered assistance to students at the fair. She works as a lead employment specialist for Target Community and Educational Services, an organization that assists individuals with disabilities to find jobs, housing, and recreational resources. "[The fair] gives students the opportunity to find opportunities that are out there," said West.
"So many of our nonprofit organizations are staffed by MC alumni," said Nik, "It's always great to see how people who got their start here as students are making a difference in our community full time."
Leave a Comment