Club Feature: MC Board Hoarders
I arrive at the Board Hoarders' meeting spot early, before the actual meeting has begun. Eduardo Chaves Serrano, the club president, is sitting in the Science Center hallway with John Yendrey, who describes board games he has recently discovered. Yendrey has brought along a crate of games for the club.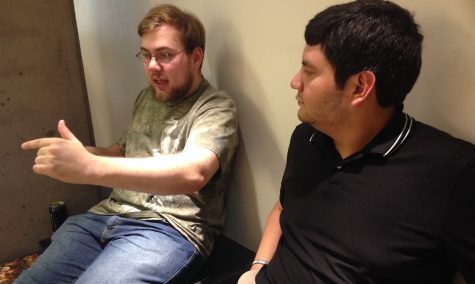 The MC Board Hoarders club exists simply to give students a time to meet and play board games of all kinds together. They meet weekly on Fridays in SC359 at 2 p.m. There is no set ending time; the meeting dissolves whenever everyone leaves.
Despite being a relatively new club, the MC Board Hoarders has quickly established itself with clear organization and uncomplicated goals. It has attracted all kinds of members with its wide appeal and low commitment.
One of the key goals of the club, as described by Chaves, is to provide MC students with a place to "make friends and foster a sense of community." Since many students don't get a chance to meet people outside of class, clubs like the Board Hoarders are a great place to do so.
"[Games] are a great way to break the ice," Chaves said. The universal appeal of games can bring many people together. The fact that these games do not include an electronic component and focus more on human interaction is even more conducive to forming friendships. People can enjoy company unencumbered by the technology that plagues our modern lives at every step and turn.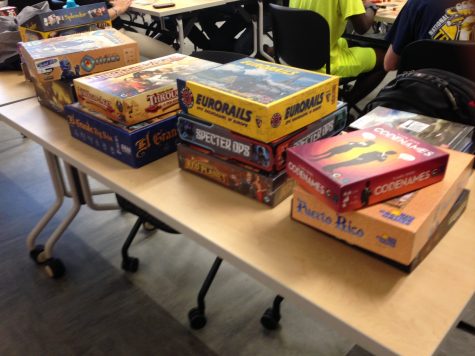 Yendrey, who previously led the board games club at UMBC, is both enthused for the club and surprised that he didn't know about it earlier. Despite having been at MC for a number of years that he doesn't wish to discuss, this is the first semester he has heard about the Board Hoarders.
Eventually, the room for the club is unlocked and games start to pile into the room. People start to file in, some coming to play, some toting even more boxes. Eventually, people start forming groups around tables and setting up games.
Jason Lee, a math professor, is the club adviser. He collaboratively started the club with students back in the spring of 2017. Lee is very involved in the club, often attending and playing games with students, in addition to lending the large collection of games he keeps in his office each week. His passion for games stems from his background as a competitive backgammon player.
While some more experienced gamers like to enjoy more complex, difficult games, the club is very open to players of all levels, and even those with no experience. "You don't have to be a serious gamer to come," Lee said.Whether you are willing to learn new games or just want to play simpler games, the environment is welcoming to all. The more experienced people enjoy teaching games to new people.
Other club leaders include Brendan McGovern, the vice president, Nicholas Sosetio, secretary, and Erik Umoh, treasurer. Leadership is all new this year since all of the previous leadership recently graduated from MC.
Today, the turnout is pretty big. There are probably around 25 to 30 people, filling the room. There are all kinds of people playing all kinds of games. Yendrey has sat down with two other people for a complicated area-control strategy game called Kemet, while others play opt for games like Jenga and Uno. Another group is playing Settlers of Catan, while others enjoy a simple but tricky game called Skull.
After four hours or so, Chaves has to leave early, but McGovern and Sosetio still raise their voices and get everybody's attention to vote on a fifth leadership member. In an informal, whiteboard-delineated, hand-raising vote, the attendees choose Mithun Swargaloganathan as the club chancellor.
Currently, the club has an average of 20 people come out every week, with 10-15 regulars. However, they are open to new people all the time and invite you to drop in any Friday at 2 p.m. in SC359.
The group also communicates through a Discord server. For more information, contact the club at mcboardhoarders(at)gmail(dot).com.
In this column, the Advocate will be spotlighting various Rockville clubs in an effort to raise awareness about them and inform the student body about the organizations out there. If you are a club interested in being written about, please contact Anna Sohn at asohn1(at)montgomerycollege(dot)edu.
Leave a Comment