In Memoriam: Clif Collins, English Professor, Sports Fan, Friend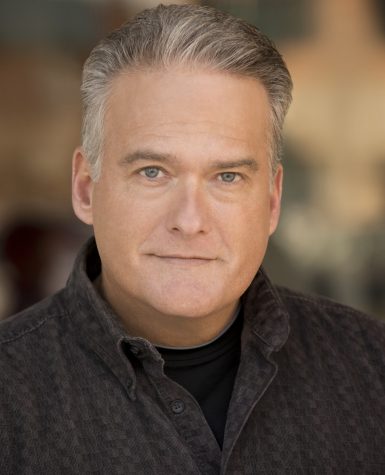 Professor Lawrence "Clif" Collins, an English professor at Montgomery College, died on Aug. 20, 2018, a few days short of his 56th birthday. He died due to complications from diffuse scleroderma and myositis.
Collins taught at Montgomery College for 25 years. In addition to being a professor in Rockville's English department, he was involved in the Montgomery Scholars honors program. There, he taught the required World Literature courses for the last 16 years. Collins also taught class sections for the Program for the Advancement to College English (PACE), a program designed to help students placed into developmental English advance to the college level.
Dr. Elizabeth Benton, former English department chair, knew Collins for the past 11 years she has been at MC. "What was so wonderful about Professor Collins is that he knew no stranger, he made every single person he met feel like a friend, and he was […] a Renaissance man," she said.
Collins was born in Georgia and graduated from Clemson University with a B.A. in Political Science and an M.A in English. His Southern background was a defining aspect of his identity. His wide array of interests included poetry, art, blues music, literature, and sports, especially baseball. He was also a television actor for many years.
The Montgomery Scholars program, in particular, feels Collins' absence deeply. History professor Mary Furgol, who leads the Montgomery Scholars program, team-taught with Collins for 15 years. The built-up synergy and mutual respect that he was a part of are irreplaceable.
Dr. Rodney Redmond, Instructional Dean of the English and Reading department, knew Collins for over 20 years and shared an office with him for many years at the beginning of their tenures at Montgomery College.
He remembered observing the seamlessly team-taught Montgomery Scholars class, with the professors all intersecting each other in perfectly planned conversation. "It was an amazing experience. It was almost like watching a ballet– every person in the ballet moves gracefully across the stage. They interact with each other, but they never actually collide with each other."
Collins also headed the freshman orientation within the Montgomery Scholars program. He was the first professor who the Scholars met and learned about the program from.
As a professor, Collins was a welcoming, friendly character, yet still expected rigor. He was a well-liked teacher, but by no means was he an easy grader.
Redmond said that in the 15+ years that he served as chair, associate dean, or dean of the department, he never had a student complain about him.
"One of the things I found the most interesting was the number of students who kept coming back over and over and over again to take classes with him," Redmond said. Students who did or did not do well in his class alike signed up for his classes again–and not because he was easy, but because of the professor he was.
"His quintessential approach to students combined humor, respect, concern, and frankness," Furgol said.
Collins' goal and focus as a professor was not merely to make sure that students passed a class, but that students improved their writing. "If you're just passing the assignment, but not improving as a writer, when you get to the next course, you're starting all over again," said Redmond, describing Collins' approach.
Nicole Obongo is a student who graduated from the Montgomery Scholars program in 2016. As every Montgomery Scholar did, she took World Literature with him for two semesters. "While he was nice, I was challenged," she said. "He expected us to bring our A-game."
Furgol recalled two of his most memorable lessons. There was one in which he "brought in a beloved childhood stuffed animal, a monkey, to illustrate the whimsical but important nature of the messages behind children's literature."
The other lesson was on James Baldwin's short story "Sonny's Blues," which he had memorized perfectly, down to the page numbers. He would deliver it soulfully, with resonance and power. This lesson was his most iconic lecture as a professor.
Collins also used to teach a course called "Grit Lit" (named for the Southern breakfast), which focused on Southern-authored literature and literature which contained stories about the South. He included works by Zora Neale Hurston, Eudora Welty, James Baldwin, Langston Hughes, Samuel Clemens (Mark Twain), and more. His approach to teaching literature not only included the text itself but extending the discussion to the history, the music and the surrounding context of the work.
Callie Kambanis, a Montgomery Scholar who graduated from Montgomery College in 2012, also had Collins for World Literature. She said that what set Collins apart from other professors was that he "was easy to relate to and talk to.
"He would drop a couple curse words here and there, he wasn't your typical stereotype of a college professor, so serious all the time. You felt comfortable around him. You could talk sports with him, you could grab a beer with him–I didn't do that, but you could conceivably do that with him."
Teri Hurst, now serving as the English and Reading department chair, used to have an office two doors down from Collins back when the English and Reading departments were still separate. "He always had a group of students in the evening, just hanging out, chatting," she remembered.
Nathaniel Pila, a Montgomery Scholar from the class of 2012, was one of the students who visited office hours–not only for class-related reasons but also to just hang out. "You just felt comfortable with him, and you could just sit and relax and have a cup of coffee or have lunch with him," he said. "You know that you're always going to have a good time, because he had a lot to say, but he'd also want to hear about what you had to say."
As a person, Collins was focused on connecting with both students and colleagues and was often the one to take the first step forward. "He just remembered kernels of information about people and then would bring them up as [..] a way to be a good friend," said Benton.
Benton remembered connecting with Collins over their shared Georgia background and chatting about Southern things like sweet tea and boiled peanuts.
When she became department chair six years ago, she moved to an office next door to Collins'. "Immediately, he walked into my office, and offered a helping hand," she said. "Because the walls were kind of thin, […] if he heard some tension in my voice, he just popped around the corner to say hey and make sure everything was okay."
Obongo remembered Collins as someone who "was always cracking jokes." At Montgomery Scholars events, he was always laughing, connecting with students, and even creating inside jokes.
Kambanis said that Collins remembered the fact that she had a Greek background, as well as her brother was a Clemson alumnus and would bring those things up all the time. "You felt like he knew you. He would remember things–like a friend would remember things about you and your family," she said.
Collins was a huge sports fan. Anyone who knew him knew that he loved baseball a lot. His favorite team was the Baltimore Orioles. Pila remembered that he had a tradition of bringing Cracker Jacks on opening day and giving it out to the whole class.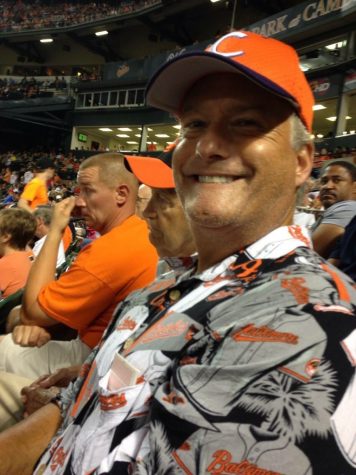 He also loved following college football and cheering for his alma mater, the Clemson Tigers.
As an actor for television, Collins often had roles for the Investigation Discovery channel recreating crimes for mystery crime shows. He also did modeling and ads for various companies. One particularly hilarious commercial that Redmond recalled was for Punkin Chunkin, a contest for flinging pumpkins long distances.
Last winter, Collins published a poetry book titled Lives of the Apostles, which he wrote while he was sick. It reflects on life and death. More information can be found on the Amazon retail page.
Kambanis had the opportunity to visit him this past spring while he was sick. "He was still talking, making jokes, giving advice, listening, and being supportive," she said. "He didn't look like himself, but he still acted like himself. It was nice."
Pila remembered that at his freshman orientation when Collins asked students to share a fact about themselves, one student said that they loved coffee. Collins responded by saying that he also loved coffee a lot. After his death, he was cremated and he had his ashes put in a Maxwell House coffee tin.
Redmond said, "Although he had a short life, he had a meaningful life. For Clif, life was more about living a life of meaning, because if you lived a life that was meaningful, that made it worthwhile, as opposed to having a long life that had very little meaning. Even a short life that's packed full of meaning can be quite significant and impactful."
To memorialize Professor Collins, the college is constructing a small library outside his office in Macklin Tower 501, called the Collins Library. It will contain his poetry book, as well as other volumes written by faculty members. Once it is completed, students and community members will be invited to come to the library and borrow a book or read for a while.
The college is also holding a memorial service for Collins on Friday, September 28th at 2:00 pm. It will be held in Science West, room 301 on the Rockville campus. For more information, contact Dr. Redmond at [email protected].
Leave a Comment