All Are Welcome to This Year's Hunger Banquet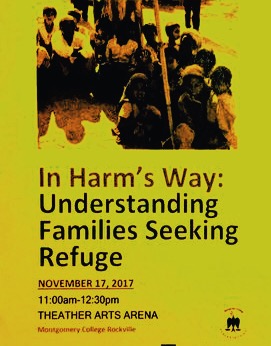 Montgomery College's third annual hunger banquet is scheduled to take place next Friday, Nov. 17 at 11 am in the Theater Arts building.
If you've never heard of a hunger banquet, it is an event in which participants simulate the realities of the destitute in order to learn more about hunger and poverty.
Hosted by the Office of Student Life and sponsored by Oxfam, the theme of this year's hunger banquet is "In Harm's Way: Family's Seeking Refuge" to raise awareness of the refugee crisis facing the contemporary world.
According to the United Nations High Commissioner on Refugees, there are approximately 65.6 million refugees in the world today, approximately 70 thousand of whom are resettled by the UNHCR every year.
This year, the hunger banquet committee took it a step further and centered the theme of the banquet around families seeking refuge from war-torn countries.
The leaders of this year's hunger banquet committee Professor Pat Ruppert and Nik Sushka worked hard alongside the hunger banquet planning team to make this year especially memorable. All are welcome next Friday to come and take part in the eye-opening experience in the theater arts arena from 11am-12:30 pm. Food will be provided following the event.
Leave a Comment