New Construction in parking lot 4
Sudden construction on a new Student Services Building for the Rockville campus began on October 4, covering parking lot 4 and blocking a high-traffic area for pedestrians.
The new building will contain an expanded Macklin Business Institute (MBI) Café, admissions and financial aid offices, and a welcome center, said Mr. Gillis, Director of Facilities at MC. "The idea behind this is to make it a one-stop-shop," Mr. Gillis said.
These services are currently spread out all over campus, located in the Campus Center, the current Student Services Building, and the South Campus Instruction Building.
Mr. Gillis sent out an email one day after construction began, notifying students that "The first phase of construction will alter pedestrian foot traffic on the North side of Humanities Building, including the walkway between Humanities and Campus Center." He also posted signs around the Campus Center and Humanities Building to redirect pedestrian traffic around the construction.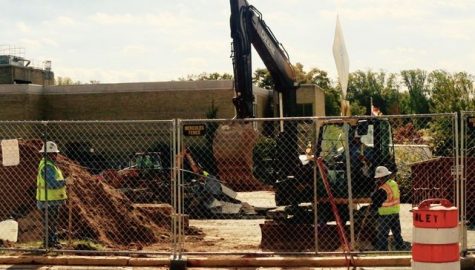 Despite the inconvenience to those trying to navigate campus efficiently, second-year student Katherine G. Chavez says she thinks "the outcome of the construction will be worth the nuisance."
Some expressed irritation over the hindrance. "Getting to my classes on time has been fairly difficult," said second-year student Maia Gordon.

"I'm not bothered by the construction at all," said Lana Bizeau Diamondidis, a student in her first year at MC. "I love seeing Montgomery College grow. It's very exciting to be getting a new student services center, so I'll gladly take the detours needed for its construction."
A few weeks after the email notice and signs, people are still just discovering the construction obstacle.
Students continue to use the walkway between the Humanities Building and Campus Center. They stroll past Mr. Gillis's green and white signs pointing them towards "EXIT TO PARKING LOT," turning around only after reaching the impassable construction.
A sign on a door in the Campus Center basement that reads "STOP – DUE TO CONSTRUCTION THIS STAIRS ARE NO LONGER AN EXIT" surprised two students attempting to exit the Campus Center last Wednesday. It appeared about a week and a half after construction blocked the exit, said one Campus Center staff member who did not wish to be named.
The current Student Services building, located between the Computer Science and Theater Arts buildings, will be replaced by green space, said Mr. Gillis. The Facilities Master Plan for 2013-2023 shows empty space where a current map of the campus shows the current Student Services Building.
Ms. Filippi expressed confidence in the construction, saying that "the New Student Services Center will guide students on their path to academic success!"
Leave a Comment