Free food at Mobile Markets
5,800 pounds of free food at a Mobile Market served a crowd of 272 students, staff, and community members Wednesday morning, Oct. 4, on Rockville Campus.
"The county has donated food for faculty, staff, and students, and it's once a month on each campus," said one volunteer. Vegetables, pastas, prepared packaged foods and juices covered one table, and a second table was piled high with bread.
Everyone was welcome to stop by, pick up a purple food bag from the registration table, and join the line to take two of each item. There was enough food left by the end of the event for people to "take as much as [they] can eat," said another volunteer.
Montgomery College students made up about 70% of those who were served and MC staff made up about 30%.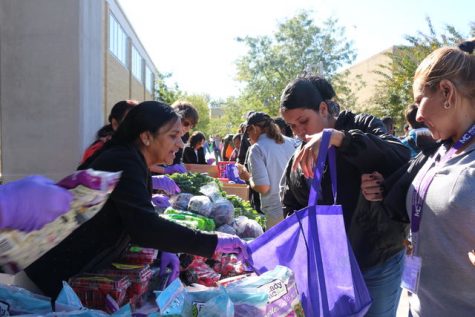 "This is awesome," said one student in line.
A couple staffers said that events like these were a blessing since it can be a struggle to put food on the table when the economy is not doing well.
"I just marvel at [those] who are willing to do this, because it takes effort," said Bob Mills, one of the few community members at the event who was not a student or staffer.
Recent reports show that students receiving higher education are susceptible to experiencing food insecurity, said Benita Rashaw, who was in charge of the event on Wednesday.
So after brainstorming ways to better support student success, Dr. Monica Brown, Senior Vice President of Student Affairs, decided to partner with Capital Area Food Bank to provide on-campus Mobile Markets, said Ms. Rashaw.
This is the first time CAFB has partnered with a college, according to Ms. Rashaw.
This was the second Mobile Market on the Rockville campus. A total of 633 people were served at the Rockville campus's first Mobile Market, held on September 20, and the Market was out of food before the event was over.
Ms. Rashaw said she was "disappointed on one hand" about running out of food the first time, but happy to "show the Capital Area Food Bank that this program was really needed."
Leave a Comment