DACA forum addresses student concerns
Speakers at the Rockville campus DACA forum Wednesday night urged community members to defend the rights of undocumented immigrants and provided information on possible next steps for DACA recipients in light of Trump's recent rescission of the policy.
"There is no dialogue without discomfort," said Ms. Fattahi, an immigration lawyer who spoke at the forum. She said she hopes the DACA upheaval will incite people to action. The state of Maryland can do more for immigrants by becoming a sanctuary state and by making the Maryland DREAM Act process easier for students, she said. She encouraged people to reach out to their legislators and representatives to show support for such measures.
Even though it's never been a path to citizenship, DACA essentially provided work authorization and deferral of deportation. Rescinding DACA has brought immigration into the spotlight and opened the door to renewed negotiations on immigrant rights. "Let's shoot high," said Mr. Escobar, Senior Director of Health & Human Services at CASA de Maryland. "Let's not ask for DACA anymore. Let's ask for a DREAM Act. Better yet, let's ask for a DREAM Act that protects TPS holders."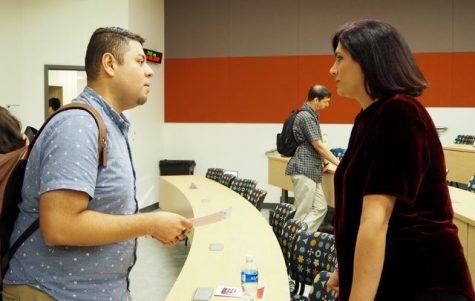 Ms. Fattahi and Mr. Escobedo took anonymous questions from the audience, written on flashcards to protect students' anonymity in case they did not wish to reveal their status.
Other students spoke out, voicing support for their peers and appealing to the emotional human element of the DACA issue.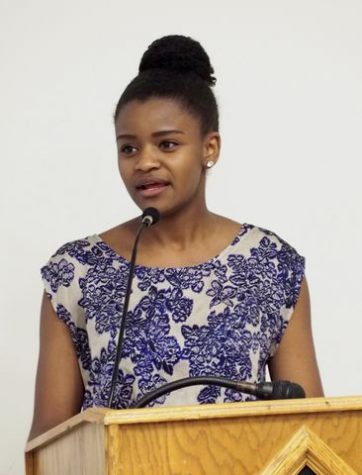 Stephanie Rodriguez, a self-identified Dreamer and DACA recipient who was diagnosed last year with a brain disorder that impaired her ability to walk and talk, said, "If it wasn't for DACA, I wouldn't have had the chance to get the medical attention I needed. So I beg of you, if you please can support us and support your friends with DACA—because we need it now, more than ever."
MC student Ricardo, who has postponed his education in order to work with CASA and United we Dream, reminded the room that the entire community is affected by the repeal of DACA. "DACA recipients are here with you," he said. "We are classmates, we are here together, and we have been part of this community for a very long time." He urged students to refer their undocumented peers to organizations like CASA and Ayuda, which are currently devoting resources to helping people apply and reapply for DACA protection.
Student speaker and DACA recipient Lauryn Fanguen called on the community for emotional support. She said she used to regard her status as her "dirty little secret," but on Wednesday night she stood before the audience "undocumented and unafraid" to tell her story.
The Rockville Student Senate and the Vice President & Provost's Office co-hosted this forum.
View Comments (1)