Food Trucks at MC
So picture this- you're in between classes on your way to the next one, most likely quite cheerless after that two-hour biology lab and a little bit hungry, too. You're making your way past the science center when you notice a few colorful trucks in the distance. As you approach you come to notice the names like "El Pollo Submarine", "Jamaican Flava". Glorious food trucks like those that frequent Farragut North and Chinatown in DC-come to visit your very own Montgomery College. Now stop picturing it and realize that it's reality.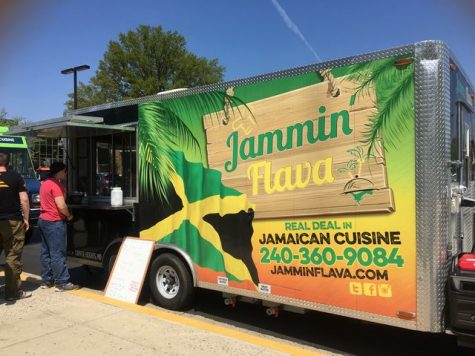 Last Thursday, I came upon several food trucks parked outside the Science Center across from the bus stops along the sidewalk. There were four very diverse food truck options to choose from. One truck served only potato-based entrees. Another offered Indian and Middle Eastern cuisine. The one at the end stylishly titled, "Jamaican Flava' " had a range of delicious food options from the Caribbean. But the one I ultimately chose was "El Pollo Submarine", a truck that specialized in treats from El Salvador.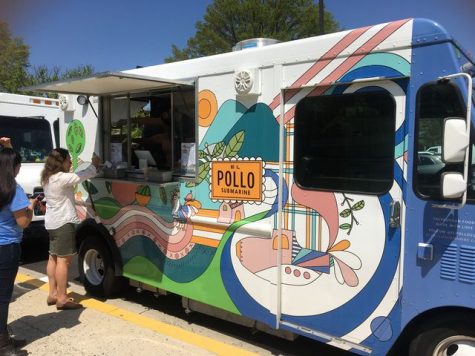 While waiting for my pupusas with rice and tres leches (a Salvadorian cream bread pudding) a spoke with one of the cooks on the truck Jonathan, who told me a little bit more.
Apparently, the trucks were here for MC's earth week that took place last week (read up more about that in our Earth Week article) but they plan to visit more regularly in the future. All of the entrees, side dishes, and snack on the truck include tax, and the prices are very reasonable. "We've been busy all day and ran out of a lot of stuff," he told me. It seemed like the trucks are pretty popular, judging from the long lines. Jonathan also told me that you can visit their website at [email protected] to find out when they'll be back.
When I was served my food, I was delighted to receive two crispy, authentic tasting pupusas and a creamy, lightweight side of tres leches. These are definitely trucks that you need to check out- perfect for a midday lunch or a quick between-class snack. Check El Pollo Submarine's website to find out when they'll be back and keep your eyes peeled for the next round of food trucks at MC- trust me when I say you won't want to miss out.
Leave a Comment