Raptors Walk-Off Win vs Allegany College of Maryland
The Montgomery College Raptors baseball team beat Allegany College of Maryland with a walk-off, no-hit seventh inning on Thursday March 30 during the first game of a double-header.
Down 2-6, going in to the bottom of the 7th (college baseball only goes seven innings), it looked as though the Raptors didn't have much of a chance to come back. They needed five runs to win and they have only scored two all game so the math was obviously not in their favor.
But that's why people love sports; probability and math don't guarantee anything.
Before the bottom of the inning began, ACM made a pitching change going from Carson Imes to Josh Stegmaier, which seemed like the smart move considering MC had left their pitcher, Greg Brown, in for the 7th inning and he gave up three runs off of three hits. But what came next obviously didn't go according to plan.
The first MC player up to the plate was catcher Cole Wykoff who had a good at-bat and was walked. The next batter, Patrick Burke who was pinch-hitting for Jake Paholski, was hit by a pitch that put him at first base and Wykoff at second. After a wild-pitch that advanced both runners, Josh Tejada was walked which loaded the bases with no outs.
Jordan Cissel was up next and with the ACM pitcher obviously struggling, he took his pitches and was also walked bringing in the first run of the inning for MC. Making the score 3-6 with no outs.
Feeling the pressure of the moment, ACM made another pitching change going from Stegmaier to infielder Jesse Hodge. He started off strong by striking out his first batter but then completely unraveled by walking the next three MC batters, Darren Prebble, Naja Garcia, and Brock Antognoni, which tied up the score at 6-6 with only one out.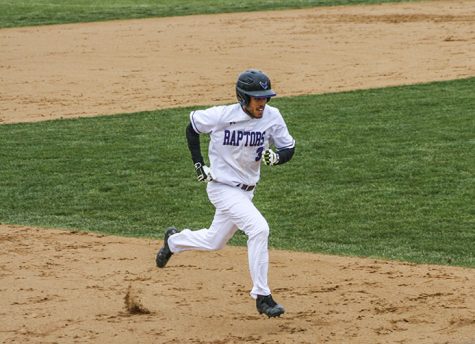 ACM got their second out when Will Proctor struck out swinging which brought Cole Wykoff, the first batter of the inning, to the plate once again.
Facing a different pitcher, in a completely different situation than his first at-bat, Wykoff stayed poised in the batters-box and took a pitch to the mid-section, bringing in Prebble for the winning run.
0 Hits. 0 Errors. 5 Runs. All in the bottom of the seventh.
The Raptors went on to drop the second game of the double-header that day but are back home in a double-header versus Anne Arundel Community College this Saturday, the 8th, at 12:00 and 2:30 P.M.