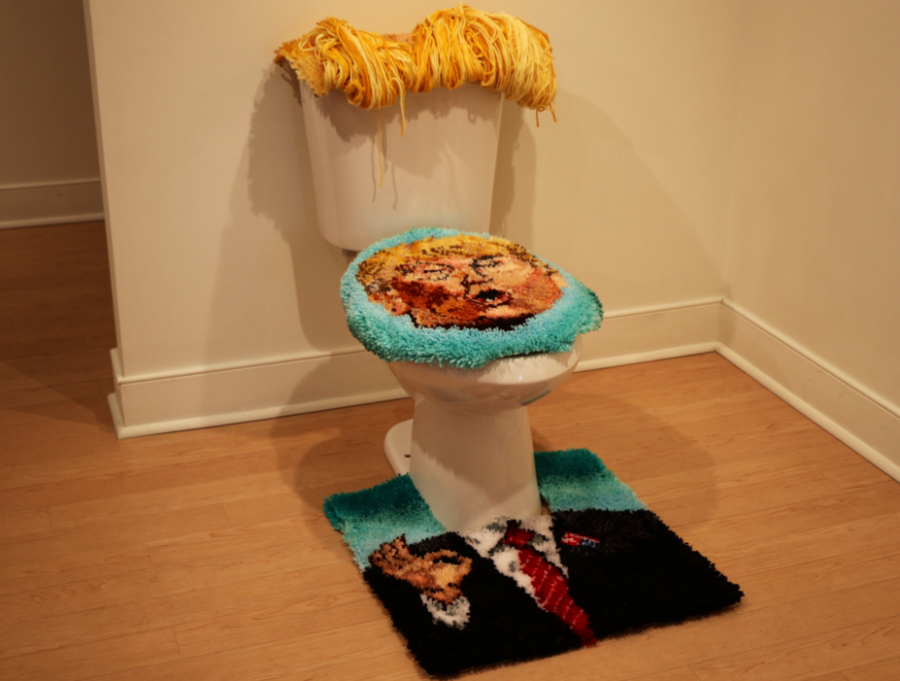 Women Impact Social Change Through Art
Activism met art at the "Women's Work: Artists Impacting Social Change" exhibition where quilts illustrated stories of rape and abuse survivors, and bathroom décor dispayed disdain towards President Trump's with his face sewn into a latch hook rug.
On International Women's Day, the doors to the Sarah Silberman gallery opened up to the public where Molly Nuzzo, professor of visual arts at Montgomery College compiled works from women, femme-identified, and non-binary artists that exemplified art that impacts environmental and social justice change.
The "Monument Quilt" was not only impactful by the sheer size of it, but by the stories of hope from rape and abuse survivors that filled the squares. Nuzzo said she felt honored to have it in the show.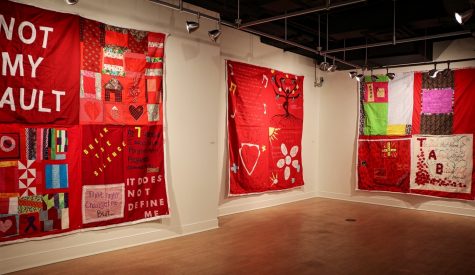 "Art can be this avenue for activism, but it can also be an avenue for healing. All of the artists that contributed to this quilt are not professional artists, they used art making in a therapeutic way and that contributes to this huge, overwhelming activist piece," said Nuzzo.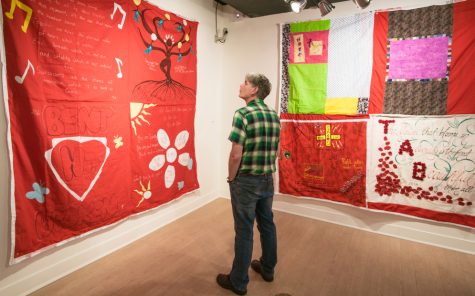 The show featured several other mediums from photography to latch hook rug making to zine work.
Brenda Oelbaum, a feminist artist, chose fibers materials. "In [Oelbaum's] generation, [yarn work] was an okay way for a woman to be seen as artists, using yarn opposed to a paintbrush," said Nuzzo.
Oelbaum, "provided the levity for the show," according to Nuzzo. She created some pieces that provided commentary on our new president out of latch hook rug making.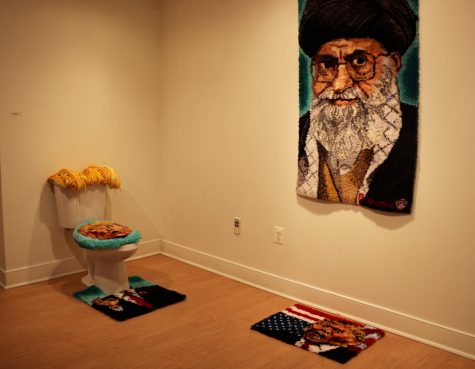 A stand out piece included a Trump toilet, where she sewed his face onto a toilet seat cover, and used loose yarn to create his famous yellow, comb-over on top of the tank cover.
Oelbaum's collection also included a Trump welcome mat, a Trump cat scratch post, and a rug of Ali Khamenei, leader of the Islamic Revolution of Iran, from her "Axis of Evil Rug Series".
A video installation by Korean artist, Juila Kim Smith, entitled "Why?" displayed several questions about different races, genders, and sexual orientations autocompleted by Google.
"I utilized Google's search engine to find out what people are wondering about me, an Asian woman, and discovered unsettling abstractions, truths, fallacies, desires, and fears about all of us," according to Smith's installation preface.
MC student Jean Pierre notes that the overarching theme of the gallery is based on inequality and stereotypes, as seen in Smith's video piece.
"Even though we've made a lot of changes, we still have a lot to do in terms of representing minorities, and being free to be anything. We don't have to let ourselves be defined by our gender, race, and orientation. We don't have to let traditional stereotypes define our destiny or character or the rest of our lives," he said.
Along with Smith's video installation, another artist chose this medium as well. Anxiety was a consensus feeling amongst attendees who watched Dominuque Zeltzman's video, entitled"Balance", where a woman in heels would balance on one leg on different surfaces like a bed, table, even a stove top.
Though the faceless woman didn't topple over, the anticipation of whether or not she would, was enough to set attendees in an anxiety-ridden trance.
However, a handful of people were perplexed by Zetlzman's piece. One attendee, Ishmawe Bayigamba, said she was confused about the balancing act video, though she felt very strongly about it.
"Maybe she is trying to balance life. Women are usually in all these different areas of the house [cleaning] and based on that maybe she has a difficulty balancing everything on her shoulders," Bayigamba said.
Morgan Barrie, a photographer from Michigan, focused on environmental justice specifically the water crisis in Flint,Michigan. The featured image on the poster for the gallery is an image that references Nike, a famous sculpture in art history, which ties some mythical references, and historical art referencesto the Flint Michigan water crisis, according to Nuzzo.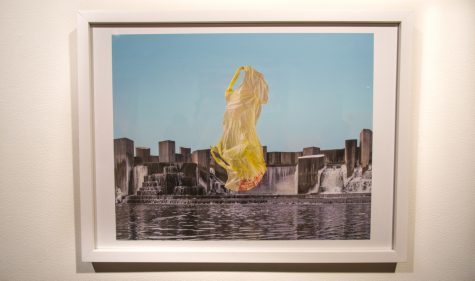 Open source zine called "Decolonizing Gender" was on display for attendees to browse. Khari Jackson, and Malcolm Shanks created the zine, that acts as a workshop that has activitieslisted to do with a group that opens up conversations about race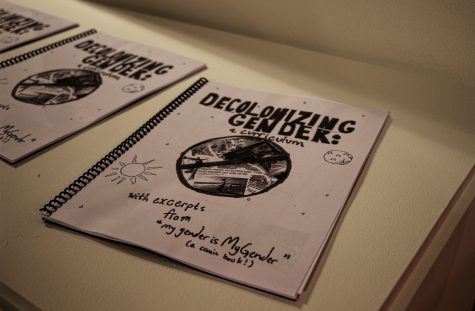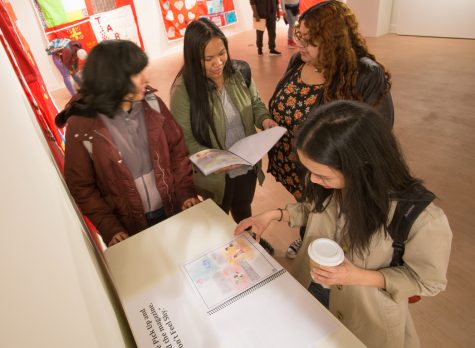 The Sarah Silberman Art Galley will host the exhibit until March 31. Gallery hours are Monday through Friday from 10 a.m. to 4 p.m. The gallery is located in the Paul Peck Art Building,which can be found at Montgomery College, Rockville Campus.