Country of the Month: Democratic Republic of Congo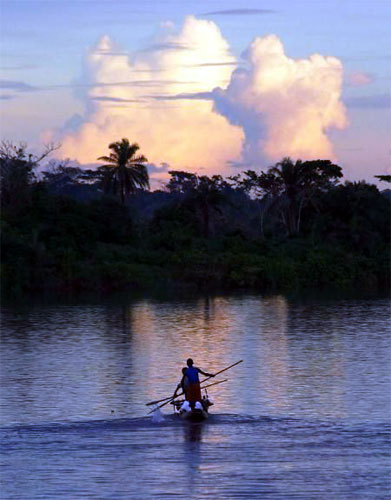 One of the many amazing things about Montgomery College is the diversity we see and feel everyday on campus. We learn among students and faculty from over 100 different countries. The Advocate wanted to take advantage of the diversity that surrounds us every day by introducing you to one MC student every month from a country you may not know much about. This month, Tatiana Mbelo will tell a bit about the Democratic Republic of Congo in Africa.
"I was actually born in the United States, but I was raised in Congo. I had a friend who came here who encouraged me to come and I wanted to see where I came from. I guess I just found a job and ended up staying," said Mbelo.
The official language in Congo is French, but most people speak Lingala. There are different dialects like Tshiluba, Swahili, and Kikongo in different provinces, according to Mbelo.
In comparing culture in the United States versus the culture in the Congo, Mbelo noticed people dress a lot less conservatively, and people also eat differently. In the Congo, people almost always eat all their meals in the house, with their families. They don't really go out, she said.
"In Congo, there is always music playing everywhere you go, on every like street corner, just like everywhere, so I miss that. And people also stay out very late, it's okay to be out late. It's never dark or empty outside. It's not like that here. When it's dark people go inside," said Mbelo.
Mbelo spoke about a typical day for a student, and a mother. According to Mbelo, As a student, you wake up early, and go to school. In University, you don't get to pick your classes and time, they have set schedules. "University students usually start school about 8 and end at 5. For a mother, she'll stay home and take care of smaller kids, and clean. She'll cook a lot and the husband will usually be home no later than 5. And then everyone eats together."
"In Congo, it's not a necessity to work so hard to survive, family is very important and we all help each other with everything we all need. We all usually live close to each other and in Congo your family my help you out for pretty much your whole life. Religion is also very important, like going to church, people who don't go are usually judged pretty harshly. But mainly family is what's most important to Congolese people," she said.
Check back next month to see what country we'll be introduced to next.