MC alum Rion Amilcar Scott talks Insurrections at TP/SS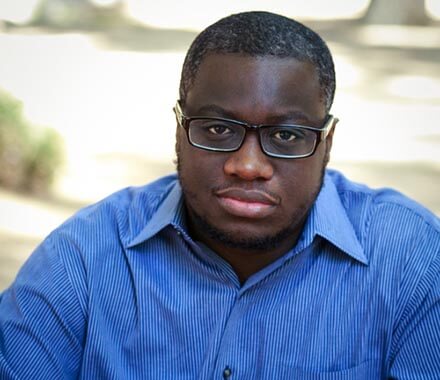 To celebrate black history month, local author and MC alum Rion Amilcar Scott was invited to read excerpts from his new short story collection Insurrections at the Takoma Park/Silver Spring campus on February 16th. He discussed the passages as part of "The Legacy and the Burden of History" with Professor of History and Political Science Karl Smith and Professor of English Cinder Barnes.
Like many Montgomery College alumni, Scott grew up in Silver Spring, MD. Scott embraces his roots in Insurrections by modeling the stories' location, the fictional town of Cross River, after the D.C. suburbs. Characters often reference familiar places, like Georgia Avenue or a quondam Safeway, vandalized during a civil rights riot in the story "Three Insurrections".
"Three Insurrections", the first of Scott's passages, describes a riot that happens after Martin Luther King is assassinated. Scott cited as inspiration his father's immigration from Trinidad and Tobago in the sixties. He also shared an anecdote about his resentment towards Safeway growing up because it was more expensive than Giant, which was farther up the road. Scott said the process of writing the story showed "how history shapes us and molds us."
Scott read two other selections. The next was "Boxing Day", a narrative about a dysfunctional father-son relationship told from the son's perspective. The third was "Juba", a story about an accountant who is mistaken for a drug dealer because of his race. "Boxing Day" explores dissociation that is, according to Scott, "emblematic of certain characters", while "Juba" speaks to a contentious relationship between African-Americans and police.
Insurrections is a work of fiction that encompasses Scott's experiences in D.C. while commenting on interpersonal struggles, depression, and racial tension in America. The center of his drama is Cross River, a town established by freedmen after America's only successful slave revolt. Scott's lecture at TP/SS examined his circumstances' influence on his writing and one's relationship with history. The program, "The Legacy and the Burden of History: A Conversation with Author Rion Amilcar Scott", was taped and will be broadcast on MCTV.