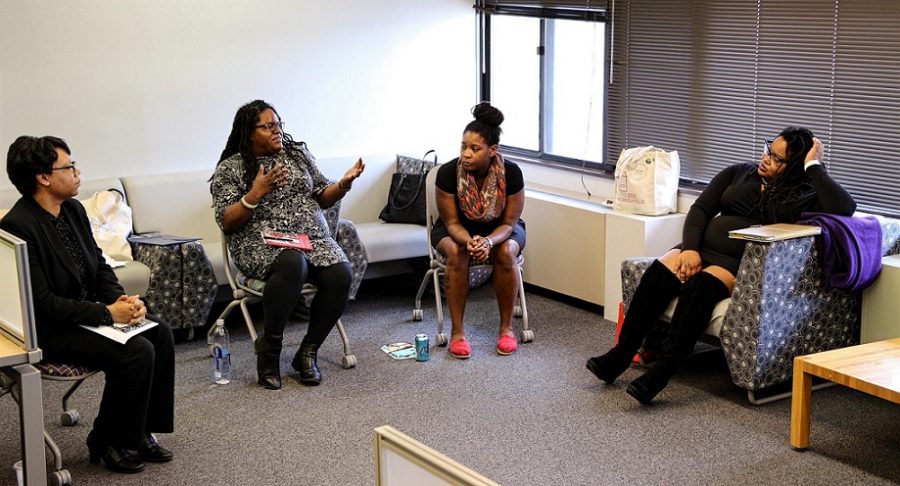 Poets Address the Ups and Downs of Black Womanhood Using Their Art
February 24, 2017
With the discovery of the use of African American women for unethical medical testing and gynecology procedures, there is a fear that such practices are still around.
Such was one the topics that came up in some of the readings by Dr. Bettina A. Judd. Judd read her work during a poetry reading held in the library at the Montgomery College Germantown campus on February 8, along with three other poets.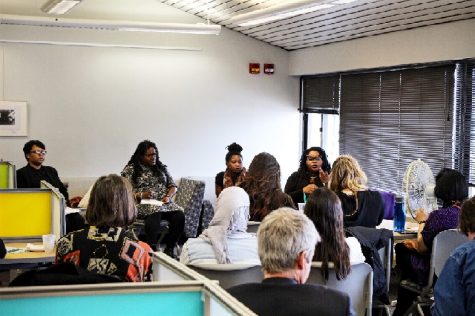 Judd used her poetry to capture history and reiterate it to the reader. Her pieces were eye-opening as she had spoke of not only herself and her experiences, but also of women being exploited for medical gains.
She stated that she herself found her beginnings in reading poetry at MC about 10 years ago.
Maya Marshall spoke of black womanhood throughout her many shared pieces. Her second piece was inspired by the death of Sandra Bland. Before starting that piece she said "there are many more names." She said that even though their stories may not be as publicized, there are many more women who have lived a similar fate to Bland's.
Marshall also spoke of black womanhood that was far more personal to her. This was a love poem of her own called Mockingbird which was inspired by her mother. It spoke of her mother's character, her relationship with her mother, and thoughts she had about her mother at different points in time.
The fourth poet to read was one of MC's own, Professor Kateema Lee. Lee sprouted the idea to have a poetry reading on campus at the college. She approached the staff in the library, pitched the idea to them, and they agreed to hosting the event.
After all the poets read, there was enough time for the audience to ask questions. One question that was raised was whether or not the poets felt as if it was their duty to express the views of the people on current events. They all generally said yes but the first reader at the event, DeLana R.A. Dameron, lead off her explanation by saying "what's going on is different for different people in different bodies."
Dameron feels that her poetry expresses how she feels about certain situations and how she might react. Emotions and the notions that follow may be very different for some but it is okay because she creates connections for those that feel the same way she does.
All of the poets are fellows in the Cave Canem poetry organization. This organization was founded in 1996 to bring more representation to African American poets.
The poets also have had their work published in various forms, whether it be books or isolated poetry. Each have their own accolades that have been acquired from their writings and encourage future writers to keep writing. Judd herself said that she would tell aspiring writers to not only keep writing but keep reading as well.