February is Financial Aid Awareness Month
MC Celebrates Financial Aid Awareness Month
Did you know that February is financial aid awareness month?
Montgomery College will be the host of numerous financial aid workshops throughout the month of February in light of FAFSA deadlines. The workshops will aim to help students understand their options for financial aid, how to acquire funds, and how to make the best choices when it comes to funding their education.
There will be six total workshops offered throughout the month. These workshops provide information from how to manage student loan debt to presenting scholarship opportunities to providing tips on maintaining Satisfactory Academic Process (SAP).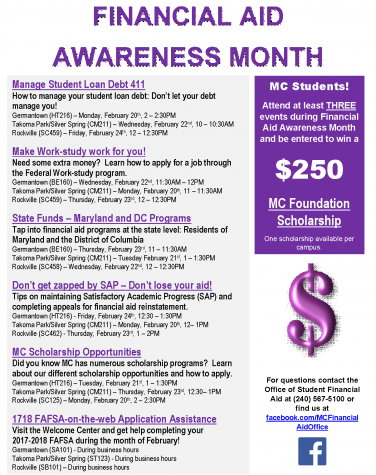 There will also be a bonus for students who attend at least three events during Financial Aid Awareness Month. Those students will be entered to win a $250 MC Foundation Scholarship (one scholarship per campus) A grand total of $750 will be awarded to three students.
Montgomery College is also offering "Required Financial Literacy Sessions for All First-Time Student Loan Borrowers" throughout the month of February and March.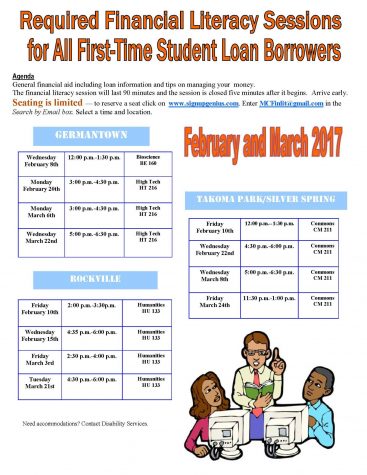 You can find more information on upcoming events on the Montgomery College Financial Aid Office on their Facebook page: https://www.facebook.com/MCFinancialAidOffice/?hc_ref=SEARCH&fref=nf.
You can find 24/7 financial aid answers on Financial Aid TV  https://montgomerycollege.financialaidtv.com/.
Hours of operation can be found at http://cms.montgomerycollege.edu/edu/plain.aspx?id=25387.