Nintendo Reveals New Home Console: The Switch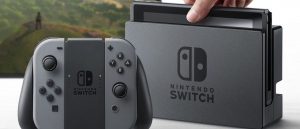 Nintendo released a trailer showing off both a new video game console and handheld system. The twist this time around is that they're the same device: the Nintendo Switch.
The trailer shows a man on his couch playing the upcoming Legend of Zelda title and enjoying himself before being pestered by his dog. Under normal circumstances, a person might relent to the calling of the outside world and turn the game off, but this is no longer necessary with the Nintendo Switch. By simply detaching the tablet display from the docking station, a person can take the home console experience with them wherever they go: the dog park, the airport, the basketball court, the roof, an e-sports tournament. Nintendo wants us to know that if we can go there, we can play there.
Not much is known about the Nintendo Switch just yet. It's powered by a custom Nvidia Tegra graphics card that Nvidia boasts took "500 man-years" to create. The system itself is physically versatile, with a number of ways to configure to best suit the preferences of the player whether they're using it on the go or at home. It uses game cartridges rather than discs, presumably to better accommodate its function as a portable device. In a recent interview, Nintendo President Tatsumi Kimishima has noted that although the Switch can function as a portable device, they do not intend for it to replace the Nintendo 3DS. Nintendo plans on revealing more detailed information this January.
A large criticism leveled against Nintendo home consoles for the past several years has been their lackluster support from third-party game developers and comparatively weak software libraries. Nintendo is hoping to assuage the fear that this will be a continuing problem by publishing a list of almost 50 developers that have pledged support to the Switch, including Activision, ATLUS, Electronic Arts, Bethesda, Square Enix, and SEGA, among others.
The Nintendo Switch is slated to be released in March of 2017.