Blood Drive Happening Tuesday
Interested in giving back to your community in a unique way? Give blood this Tuesday!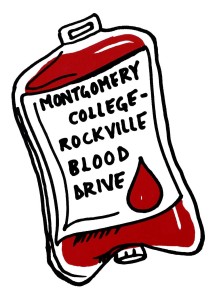 On Tuesday, Feb. 23 MC Rockville will be hosting a blood drive from 11 AM to 4:30 PM in the Campus Center, room 015, the Student Activities Center
The Red Cross Lifesavers helped to organize this event and will run it on Tuesday.
According to Adrian Vermaaten, a member of the Red Cross Lifesavers, they would like to reach a total of 30 people to donate blood. As of Monday afternoon, there are 22 people signed up. Donors would donate 1 pint of blood, which can save roughly 3 lives.
"[By donating blood] you're saving lives, people are depending on this blood to live," said Vermaaten.
You can schedule an appointment at http://cms.montgomerycollege.edu/EDU/Department2.aspx?id=10063
Walk-ins may or may not be available.
If you are concerned about your eligibility to donate, you can call 1 866 236 3276.
According to the official Red Cross website, some general eligibility requirements would be that the donor should be in good general health and feel well. They also recommend that you be at least 110 lbs. Students also shouldn't have any major infections and disorders that affect their blood and would make it unsafe to donate to someone.
The blood drive will also be accepting Double-Red donations, where they will put the plasma back into your system. There are stricter eligibility requirements for Double-Red donations. If you are a male you must be at least 5'1′ and 130 pounds. For females, you must be at least 5'5′ and 150 pounds
Before donating blood, participants should drink plenty of water and eat iron-rich food.
After you donate blood, there will be t-shirts distributed to those who participated (while supplies last).
For more information, you can contact the Office of Student Life at 240-567-5261 or David Hull at 240-676-9955 or [email protected]
If you're hesitant as to whether or not you would like to donate, check out the FAQ's on Red Cross' Website.