Racially Charged 911 Call Threatening MC and Potential Stabbing on Same Day
There was a "potential stabbing" and a racially-charged 911 call threatening a shooting at MC last Friday, Nov. 13.
At 1:45 p.m., the Takoma Park Police Department got a call from someone saying they had overheard a potential threat to the college, according to the Montgomery County police.
"They're going to do a lot of drugs and go to college and shoot black people," the caller said.
The caller called from an untraceable line but there was no campus that the threat was specifically directed to, according to the police department.
At 3:03p.m., an Alert Montgomery message was sent out saying "Out of an abundance of caution, there are increased patrols on campus after police received a threatening 911 call. The College remains open. Report suspicious activity to security or call 911 in an emergency."
This resulted in heightened security, which according to media relations director Marcus Rosano, means that there is not only more MC security, but also patrols from local law enforcement. This was true for all three campuses.
Earlier that day, "a parking attendant witnessed what he believed was an altercation in Lot 11 on the Rockville campus," said Shawn D. Harrison, director of public safety and emergency management at MC.
College officials do not believe the two incidents Friday are related.

Both participants left the scene, with the assailant running towards lot 10 and towards Mannakee st., therefore away from campus. The victim also left the scene, but never reported any injuries to the security department, according to Harrison.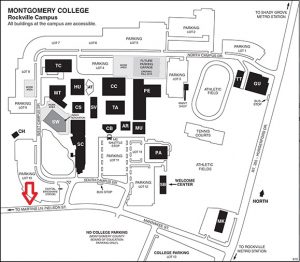 In light of the events, Rosano urges people to sign up for the Alert Montgomery system.
"If there's something immediate on campus, the text is very important," says Rosano, "everybody should get Montgomery alert, and monitor their emails."
According to Rosano, the texts only allow a certain amount of characters, and therefore must be brief. To get more information, students should also check their e-mails. If you can't access both, hopefully you can access at least one.
"39,900 people have signed up for Montgomery College alert, but new students should sign up also," says Rosano.
Montgomery Alert not only sends alerts for Montgomery College, but all of Montgomery County. You can sign up for Traffic and Weather, Montgomery County Police District, MCPS, Montgomery County Government, Montgomery County Recreation Dept, and Montgomery Park alerts. You can also choose not to be disturbed during a certain time of the day.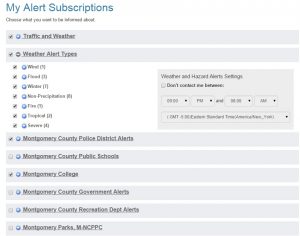 To sign up for Alert Montgomery, click here or go to alert.montgomerycountymd.gov.
To find out more information about Alert Montgomery, click here.