Parking Lot 5 and 6 Partially Closed Today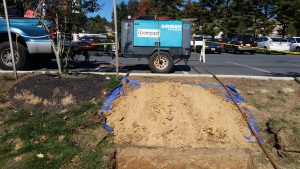 Anyone driving by the lots 5 and 6 behind the Campus Center will notice that there are spots sectioned off due to construction.
According to Catherine Baugh, Senior Project Manager, the lots were partially closed off to "facilitate work that Comcast has to perform in order to provide internet service to the North Garage construction site."
"The parking spaces were isolated this morning to prevent Comcast crews and equipment from being in the walking path. This was done to keep students, faculty, and staff safe while traveling the walkway path," said James N Gillis, Plant Maintenance and Operations Manager.
According to Brad Martin, a grounds worker, safety is a big concern. Over the years, several people have bumped into his work vehicle due to inattention.
As always, "the faculty and students should just try to be more aware of their surroundings," said Martin.
Both Baugh and Gillis have said that the 41 parking spaces will be open for use by 5p.m. today.