Former U.S. Ambassador in Republic of South Africa Delano Lewis Speaks at MC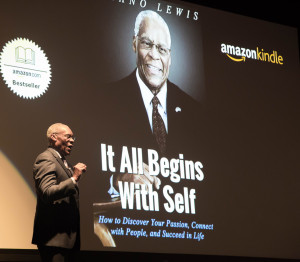 It's 1999, Delano Lewis's wife, Gayle, picks up the phone and she mouths to Lewis, "it's the Vice President!" Lewis picks up the phone. "Hello, Mr. Lewis, on the behalf of President Clinton, we would like to appoint you as the U.S. Ambassador in the Republic of South Africa." Lewis was in disbelief and he signaled to his wife, "should I do it?" She gave him a nod of absolute approval.
Before serving as the ambassador, Lewis worked as an administrator for the Peace Corps in Nigeria and Uganda, chief of staff to Walter Fauntroy, president of the C&P Telephone company and the CEO of NPR. He then served from 1999 to 2001 as the ambassador and is now touring with his book "It All Begins with Self" to share his expertise in becoming a successful person in society.
He delved into his personal life and began to tell the audience about his achievements as a boy. He stressed hard work and perseverance, taking risks, moving out of your comfort zone and taking advantage of opportunities. He was able to be successful through self-discovery and knowing what he calls an "end game."
The audience was in awe of what he had achieved in his life despite the adversity he faced. "One of the things Lewis said that stuck out was that he worked 40 hours a week [with two kids and a wife] and attended law school," said Taylor Friedman, one of the attendees to the event. "He was a very impressive man and a great speaker. I was happy to attend!"
Strong relationships and family support were imperative in his success. According to Lewis, his mother was a driving force behind his success. His father also supported him financially through law school while he was getting married and raising his two children.
Even the MC event was a family affair. His daughter-in-law, Marjorie Lewis, who works in the education department at MC, his son Geoffrey and his grandson all helped run the event.
Lewis spoke about his childhood in a small town in Kansas, attending strictly black schools until he graduated High School in 1956. He grew up living modestly, in an all black community, dealing with daily urban issues (e.g. crime, drugs). "I am one of you," said Lewis. He made it clear that despite your beginning, a life like his is attainable.
Lewis most well-known experience with work as the ambassador was his focus on health (especially HIV and AIDS), economic development, and improving education, which Lewis says "is the cornerstone to moving out of poverty." He worked alongside President Thabo Mbeki and met the famous Nelson Mandela om
After his speech, lined up to get their copy's of "It All Begins With Self" signed, and to get a picture with Lewis.
Lewis wishes to expand his work as a life coach and asked the attendees to leave their email addresses to keep up to date with his work.
Follow Delano Lewis:
Facebook: https://www.facebook.com/ambassadordelanolewis1
Twitter: https://twitter.com/DelanoLewis1 
His book "It All Begins With Self" is available on Amazon.