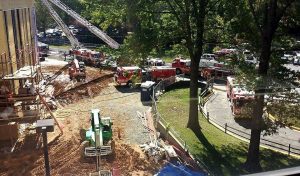 About an hour ago, the Science West building caught fire. The fire was on the roof, caused by welders who accidentally ignited insulation. The fire department was called and the fire was completely put out about 20 minutes ago. The construction workers were all evacuated, and there were no injuries.
There is no news yet on whether or not this will set back the construction, but we will update as soon as we know.
Update 2:10 p.m.: the road next to Science West is temporarily blocked. The damages are also estimated to be less than $75,000-$100,000.
Update 2:38 p.m.: The site is still evacuated. The road will not reopen until the fire department gives the O.K., and all the power to the site has been shut off.
Update 2:47 p.m.: Half of the dispatched fire trucks have left. It is expected that the scene will be cleared in about an hour.
Update: 3:10 p.m.: The fire department is getting ready to leave and should be cleared out in 30 minutes.
Update: 4:16 p.m.: The road has opened.  "The only workers left are those responsible for securing the job site," said Senior Project Manager, Peter Hanley.