MC Bans Electronic Cigarettes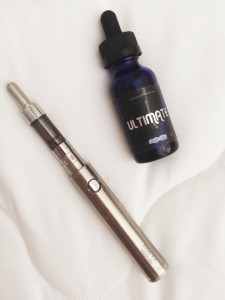 In a controversial move, Montgomery College has banned electronic cigarettes on all campuses as of June 15, 2015.
According to the Board of Trustees (BoT), cigarettes have been banned from the campus since 2003. Recently, electronic cigarettes have been considered a popular substitution to regular cigarettes. They have been said to help release stress and have fewer side effects than regular cigarettes do.
"Vaping," or smoking an electronic cigarette, is still considered harmful due to the fact that you are still inhaling chemicals. The technology has not been around for that long, and the side effects are unknown, according to Vox.
However, unlike regular cigarettes, with electronic cigarettes you have a choice between non tobacco or tobacco.
Researchers and developers of electronic cigarettes argue that they are a better choice for smokers. However, according to WebMD, "there are no health benefits and some risks."
Still, some students have taken to this alternative, leading to the college's ban.
"I agree [with] the ban of electronic cigarettes because I think they serve as a distraction, and can be a problem; and from a faculty members point of view, if they have to figure out if a students has a cigarette or electronic cigarette I would prefer not to spend my time doing that. I think it encourages smoking, and I would prefer to not have to deal with the issue at all," said health Professor Odella Hagan.
When asked, many students also supported the ban on electronic cigarettes.
"As a non-smoker it doesn't really affect me [but] I can relate to the people that … smoke because it's the habit of putting a cigarette in their mouth and actually smoking, I do understand that there are other alternatives like chewing gum or sucking on the candy, but for them it's not the same … This is going to break [the] habit that they have built themselves, it's hurting them now but it's for their own good," said student Christian Freolo.
"I think [the ban is] fine, the electronic cigarette and … actual ones [are] about the same thing," said student Abner Gaitia.
According to the BoT, "the original policy and procedures related to tobacco and the sale of tobacco products were adopted by the Board of Trustees at the June 16, 2003 meeting. The action taken by the Board on June 15, 2015 expanded the policy to create a smoke-free and tobacco free institution."
The County bill prohibits the use of electronic cigarettes (E-cigarettes), also known as "vaping," in places where traditional cigarettes are banned in Montgomery, according to the Board of Trustees.
According to the BoT, the point of the no smoking policy is to provide a safe and healthy working environment for students and staff members.
Dr. Wormack and Dr. Yeatts served as the resource peoples on the revision to this policy.