Raptors Improve To 8-0 In April With Gill's Complete Game Shutout, Sweep Westmoreland
With a sweep of Westmoreland College last week, the Raptors are a solid 18-6 on the season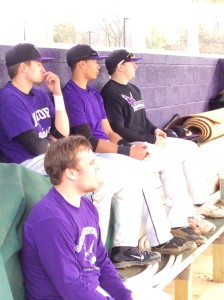 The Montgomery College men's baseball team swept the Westmoreland Community College Wolfpack in a two-game series on April 11.
The Raptors managed to sustain their success during the NJCAA conference schedule behind the pitching of sophomores
"
One run isn't a big deal with the offense we can produce."
— Brandon Humbertson
The game then turned into a defensive showcase, with the scoreline holding that way until the bottom of the third, where sophomore outfielder, John Hanley, smacked a home-run into the stands. This knotted things up one to one.
"I was trying to get a little spark happening for the team." said Hanley after the game, "Got a good spot, [and] took it out there."
The score held all the way until the bottom of the sixth, when the Raptors got into their rhythm, starting with sophomore Tyler Coleman getting onto base with a single and subsequently stealing first.
The steal led the charge of three RBIs for three players (Freshman infielder Brooks Carson, Gus Gill and freshman Chris Heckhaus). After the dust settled, the Raptors had a 4-1 lead.
Following the hit parade, MC held the Wolfpack to one run in the top of the seventh to seal the 4-2 victory.
The second game featured Gus Gill pitching a complete game shutout while only allowing four hits and striking out 11 batters.
Though there were no home-runs in the second game, the Raptors still racked up nine runs on the Wolfpack.

The sweep brought the Raptors to an 18-7 record, and an undefeated 8-0 record in the month of April.