UMD Basketball: From Disappointing Fringe Team To Potential Powerhouse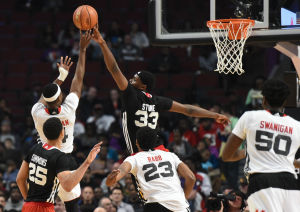 The University of Maryland's men's basketball team suddenly has powerful momentum as they prepare for next season at College Park. With star guard Melo Trimble just now reaching his stride and potential, alongside his new center, teammate, and top-recruit, Diamond Stone (above) arriving on campus this summer, Mark Turgeon's Terrapins have a lot going for them as they enter their second season within the Big Ten conference.
The potentially lethal combination of Trimble running the offense while throwing it into the post for Diamond Stone to finish has fans and basketball enthusiasts very interested in UMD going further than they have in over a dozen years. Dez Wells is leaving campus, but the squad is still much deeper than most within the conference. With Stone's commitment announced, Maryland fully expects to compete with Big Ten champion Wisconsin for a title.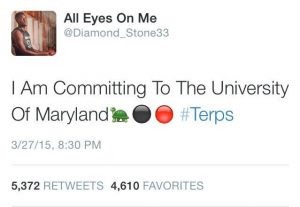 Although (very) early preseason rankings are high, as are the Maryland faithfuls' hopes, it wasn't nearly this pretty a picture this time last season. Looking back at how it all turned around for UMD is quite the remarkable story:
* * * * *
After being in the Atlantic Coastal Conference (ACC) for the past 60 years, the Maryland Terrapins entered their inaugural season in the Big Ten conference as huge underdogs in 2014.
In a conference that is home to perennial powerhouses Wisconsin (runner-up champs in 2015), Ohio State, Indiana and Michigan State, combined with the transfers of five players from last year's team, 2015 seemed to be a recipe for disaster for UMD's basketball program.
Many experts predicted the Terps to place no higher than tenth in the conference, out of fourteen teams. Aside from phenom point guard, Melo Trimble, Maryland's incoming recruiting class had many question marks, and head coach Mark Turgeon was on the hot seat, having not lead his Terps to the NCAA tournament in his four-year tenure.
Entering the season, the Terps got off to a hot start with a 9-0 record going into their rivalry matchup with Virginia–a game in which they lost (their only home defeat of the season) sans Dez Wells or Evan Smotrycz to injury.
Against fellow Big Ten foes, Maryland fared very well, going undefeated in the conference until mid-January, with big wins at Michigan State, and home against Minnesota.
After the road loss to Illinois in mid-January, the Terps fell on hard times. Star guard Dez Wells was very rusty post-injury, and there wasn't enough help surrounding Melo Trimble to overcome a stagnant offense. Losses to Indiana, Ohio State, and Iowa led many to believe this was yet another disappointing season for UMD, which would ultimately result in the firing of Mark Turgeon.
To end the season, Maryland looked very sharp behind Trimble, junior forward Jake Layman, and sophomore center Damonte Dodd, en route to winning their final seven games (including a huge win at home against conference champion Wisconsin) to finish 26-5 at a ranking of eighth in the nation.
Entering the Big Ten tournament, Maryland earned a two-game bye and played rival Indiana in their first game. Indiana was one of only five schools to beat the Terps during the regular season, so revenge was well sought after. Following a trouncing of the Hoosiers, Maryland continued on to face a Michigan State team whom they had beaten twice during the regular season.
However, the Spartans showed their veteran prowess and stifling defense en route to a four point victory over Maryland.
On Selection Sunday, Maryland learned their fate. They were awarded a four-seed in the East bracket and a first round matchup with Valparaiso. The Crusaders gave Maryland all they could handle, forcing eleven turnovers and outshooting Maryland from deep. Unfortunately for Valparaiso, they couldn't contain Trimble and Wells (combining for 28 points and 13 rebounds), as they were defeated 65-62 in a very contested matchup.
In the round of 32, the Terps faced border rival–West Virginia. This matchup was well anticipated, as the full court defense played by the Mountaineers could very well offset the guard play aggressive play of Trimble and Wells. A one-point game heading into the second half, the Mountaineers intensified their defensive efforts, executed their trademark full-court pressure to perfection, and sent the Terps home before the Sweet 16 round.
Bob Huggins' crew suffocated the Maryland offense into 23 turnovers (eight by Wells). What's more, an unfortunate head injury to Trimble crushed any chances of a miraculous comeback. Although the deficit was only 10, the final score did not do the game enough justice.
Regardless of the way Maryland ended their season, their 2014-2015 campaign will be one of triumph and success. In a year where many experts thought low of their chances to win, they overcame those adversities and the future looks as bright as ever under Trimble, Turgeon and co. Moreover, those same experts have the very same UMD ranked within the top five projections for next season. It's fair to say Terrapin basketball is on the rise.