Raptors Sweep Sullivan CCC In First Home Set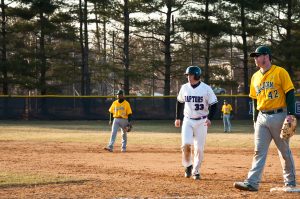 Montgomery College's baseball team made a good first impression on the early season as they swept Sullivan CC in their inaugural home doubleheader.
Winning both Tuesday matches 5-4 and 12-1 respectively, the Raptors (6-4) look to have some forward momentum going into April.
With just a .500 record going into this weeks set of games, Raptors manager Dan Rascher stated the importance of his team's cohesiveness.
"We just have to get used to playing with each other–we have a lot of new guys on the team–we have to keep building that chemistry as the season goes on."
Rascher's players seemed to second the importance of building team work through the shortened season.
"We really need to keep working on the basics and just love each other. If we do those two things we'll be fine," said sophomore pitcher Antonio Pino.
The fact that both Rascher and Pino emphasized the Raptors' cohesiveness illustrates the big picture of why baseball is such a different sport from others at the college. The season has more games, and the clubhouse factor of the sport requires as few rifts between any coaches or teammates as possible.
It's still early, and April will be very telling as to where this newer Raptors team stands, but sweeping their opponent on the first games in Germantown certainly sets a good tone for the season.