GOP Loses Fight to Block Immigration Action after Approval of Homeland Security Funding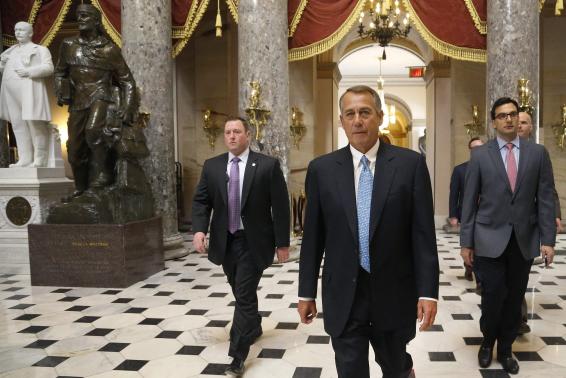 After a longstanding dispute over funding for the Department of Homeland Security (DHS), House Speaker John Boehner abandoned the GOP's attempt to restrict President Obama's immigration plan.
After a 257-167 vote, a clean bill was passed on Tuesday to fund the domestic security agency for the rest of the fiscal year, through Sept. 30. Congress avoided another partial government shutdown after barely meeting a midnight deadline on Friday, Feb. 28, where they passed a bill to keep the agency doors open for one week.
"I believe this decision — considering where we are — is the right one for this team, and the right one for this country," said Boehner via the LA Times.
With the idea that President Obama took illegal executive action, the administration is fighting a federal judge's order that temporarily blocked the action.
The party's image was threatened amid the previous DHS funding which was set to expire in one week. Conservative Republicans are disappointed with Speaker Boehner's decision to present a clean bill on the House floor.
The shared funding between homeland security and immigration is what drives the bipartisan dispute and conservative attempt to block the recent plans for immigration reform.
"We have to stand up, use the power of the purse," said Rep. Thomas Massie (R- Ky.). Other Republicans hoped to continue the fight to block what they believe to be illegal executive action on all levels.
Discontinued funding for homeland security would have furloughed about 15 percent of the agency's workforce, with nearly 200,000 airport and border security agents, Coast Guard personnel, and others to remain on the job without payment.
A clean bill does not place any restriction on immigration, conservatives display disappointment in the House speaker and their lost efforts.
"Some members of Congress put jobs on the line in order to voice their disapproval about the executive action on immigration," said Steven Guerrero, a civil engineering major and member of the Army Reserves since 2013.
"They could have done the same to us, members of the army, just because they're trying to force their disapproval on an entirely different issue. Immigration reform is aside from homeland security," said Guerrero.