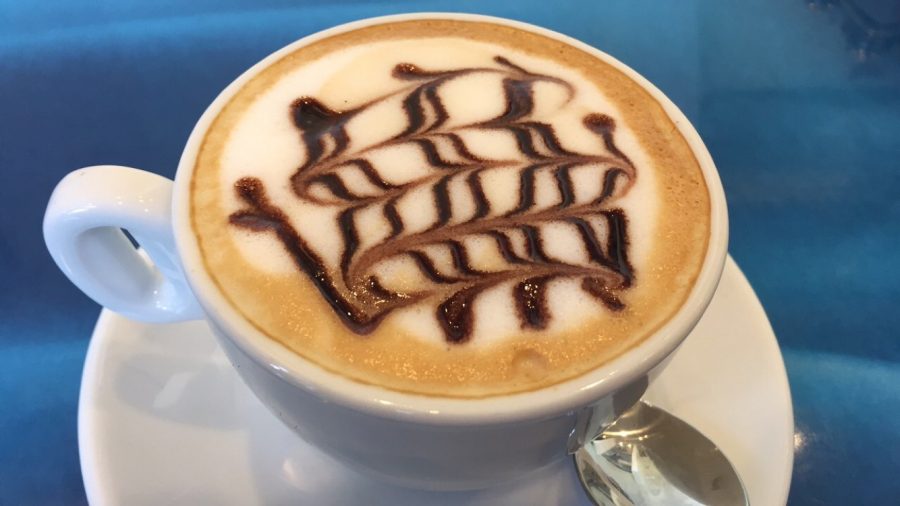 Review of CremCafé
It's morning and you're in desperate need of a cup of coffee. But, you're too lazy to make yourself a cup. You're thinking to yourself, "well…maybe I will just stop by Dunkin Donuts or Starbucks." Typical.
Spice up your mornings by going to a different coffee shop around your school. My pick for this week is the CremCafé, located in Rockville Town Square, a couple doors down from Regal movie theaters. It's a small café, that could use more seating, but they somehow make it work.
This café gives off a perfect morning vibe. When you first walk in, the aroma of freshly brewed coffee hits your nose. You will also notice that when you walk into the café, it has beautiful, big windows that provide natural lighting. The paintings and Christmas lights hanging from the wall make it feel like you are having coffee at home. Coming to this café can put you in a great mood for the rest of the morning.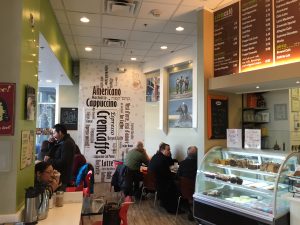 The waiters greet you with a smile. The line may be long, but they are fast. They are also completely familiarized with their menu. The waiters are quick and my meal came to me within ten minutes–that really impressed me.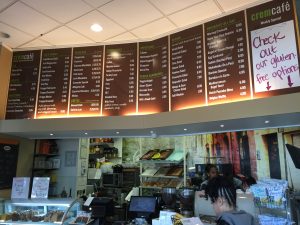 Prices are very reasonable especially for a cup of coffee and a meal. If you're hungry. get something off of the breakfast and lunch menu, their meals are pretty satisfying.
Just like Starbucks, this is a "chill" place. The café is great for a quick meeting and catching up on some studying while listening to relaxing music.
This cafe is known for their presentation of coffee. I had the Espresso Chocolate (Tall $3.95, Grande $4.45), and was completely blown away with the presentation. My espresso chocolate came to me in a clean cup and clean plate. It was hot enough for me to drink when it was given to me.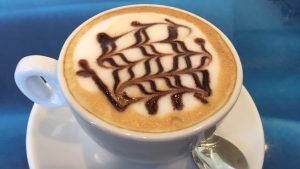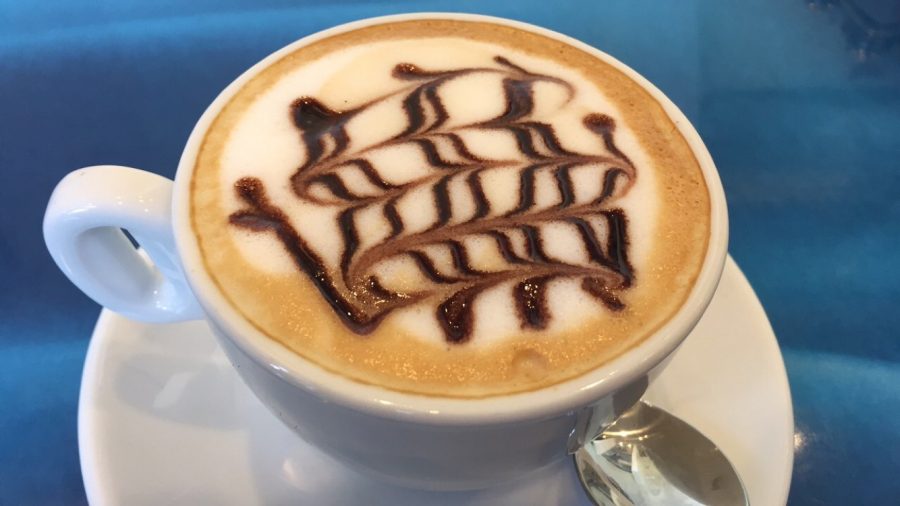 This espresso had the right amount of foam but more espresso than foam. It had just the right amount of chocolate drizzle, so it wouldn't be too sweet. It gave me the right kick I needed before class in the morning; I very pleased with how much caffeine it had.
I took a chance to take on the breakfast menu too. I had the Make your Own Omelette ($6.95). What's great about the omelet is that you can choose up to four toppings and it's already included in the price.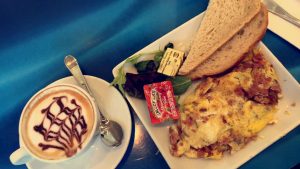 The downside of the omelet was that the bacon could've been cooked a bit more. The omelet itself could have been presented in a better way and the toast on the side could've used a little more time in the toaster. The spices in the egg omelet weren't too overwhelming and were easily tasted.
I did like that they gave a small spinach salad on the side and provided butter and jelly with the toast.
Whether you're a business person or a college student in desperate need of some caffeine, this place is for everyone.
Overall it was a good breakfast, the CremCafe deserves 3 out of 5 advocats.
If you drove to the cafe be prepared to have quarters for the parking meter. If you plan on taking the bus, take the 46 towards Medical Center, or the 55 towards Rockville Station.