Capital Bikeshare Program Ready to Roll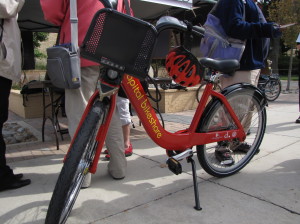 For Those who don't know, Capital Bikeshare is a commuting system made up by a network of public bicycles that are available for short term rent. The installations around  the D.C. area have proven to be a success and now they are coming Montgomery College's Rockville and Takoma Park campuses.
50 new bike stations, including locations near Rockville and Silver Spring/Takoma Park campuses, are under development. More stations will be located in Bethesda, the Friendship Heights Medical Center, and Shady Grove, allowing students without transportation to move more easily between campuses and metro stations. The Rockville stations are expected to be the first completed. According to Montgomery County Director of Transportation, Michael Jackson. "[We're] Hoping to get racks up at Rockville by the end of this month [Oct.]."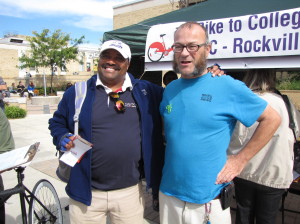 Jackson said that the main objectives top opening the locations are to "Reduce air pollution and encourage people to take bike trips instead of cars. Improve traffic congestion [and] improve mobility choices for low income workers in Montgomery County."
For students and workers that may not normally be able to afford Capital Bikeshare's services,  there is the "Job Access Reverse Commute" program (JARC program). The JARC program offers assistance in transportation for lower income workers. Anyone who meets the financial qualifications of the program will receive free services, which include biking passes, a helmet,  and a Capital Bikeshare membership for one year. Montgomery College students that qualify for financial aid automatically qualify for the JARC program.
The new bike stations are funded through a number of sources, but the main source of funding was through a $1 million grant from the Maryland DOT. "The state bikeshare grant program pays for 80% of capital costs" According to Michael Jackson. These costs include bicycles and equipment, as well as station machinery and maintenance of equipment. Funding was also given by the administration JARC as well as private investors.
In the three years since Capital Bikeshare was created, they have grown into a convenient form of transportation for a variety of people, and their expansions are now connecting more of the DMV area than ever before. Their partnership with the JARC program helps widen the net for those who wish to use their services. Their location expansions are just the next step in Capital Bikeshare's growth throughout the area.
There are stations being planned for University of Maryland's College Park campus as well as stations in Arlington Virginia. There are over 250 stations and thousands of bicycles available for public use, and the stations get restocked frequently. As the days grow colder and the days get shorter, we remember that winter is coming, and so is Capital Bikeshare.