HFA's Week Three NFL Picks
HFA'S LATE BUT GREAT NFL WEEK THREE PICKS, by Ben Holmes
(Brought to you by the Montgomery Advocate; News Evolved)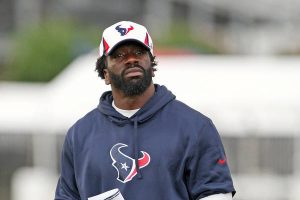 (Photo Credit: Fox Sports)
Kansas City @ Philadelphia:  Chiefs-17  Eagles-27
Week 3's Thursday night matchup is unexpectedly highly anticipated.
The Chiefs are everything the overzealous experts thought they could be, so long as Alex Smith took care of the ball.  They have done so, and are a very solid team.  Though I like their weapons defensive at each layer, it's hard to be confident in their ability to slow down Vick, McCoy and Co. The Eagles are just too spread and stacked offensively to not put up at least 27 points, and I don't see Mr. Smith matching that total.  The Eagles take the W from Andy Reid.
Houston @ Baltimore:  Texans-23  Baltimore-20
The Houston Texans were unarguably Baltimore's worst loss of the season last year, and it was pure ugly.  Although 2013 is a different year, and the Texans are banged up at Left Tackle and Safety (Ed Reed not expected to play), the Ravens will find it hard to cross the goal line against a hungry Texans front-seven, and although Pierce is a hard runner, he'll get worn down, and the absence of a healthy Ray Rice will slow them down offensively.  Flacco just doesn't have enough weapons available to him, and ultimately, Houston's the more balance team. Baltimore has improved defensively, so they might not break, but they'll bend enough.
NYG @ Carolina:  Giants-30 Panthers-17
Yes, Eli was awful last week, and yes, the Giants' as a whole have looked a mess offensively, but Cam Newton has looked like a deer in the headlights. You want Cam to succeed-you do!  But, it just is not happening.  This Giants team should be primed for the picking if you're a win-less, desperate Carolina team with play-makers trying to find your way…which is exactly why the Giants take it on Sunday.  We've all seen this movie way too many times:  Giants are a debacle, Coughlin may get canned, they're on the road, etc.  Then, they blow the doors off the joint.  Cruz, Eli, and a healthy Nicks eat a struggling Panthers secondary alive, and get their first W of the season.
Detroit @ Washington:  Lions-35 Washington-27
Okay, let's leave the obvious for another day–putting 'Megatron' against the DC secondary is borderline illegal at this point in the early season.  However, I do see the Lions giving up some points. Without their Ford Field crowd, they are far less physical or effective (similar to Seattle).  Although Griffin has looked timid at times, and Alfred Morris has Washington fans nervous of a sophmore slump, they have the hunger and determination to finally get a win, at home, no less.  Thus, this could be a shootout.  However, I just don't see Stafford having a rough day.  Lions get the win, with some defensive scoring help, perhaps.
San Diego @ Tennessee:  Chargers-23 Titans-26
The rough and tough Titans squad seems to finally be buying what coach Munchak is selling.  Although this is more about me hating the Chargers chances of winning back-to-backs after a marathon of a game like last week (as most of us do), I like the Tennessee's ability to control the game with the tempo they want.  The Chargers love games such as the win they had last Sunday.  They won't get that on a travel game against a rough defense.  Locker is indeed limited, but so is that San Diego defense.
Arizona @ New Orleans:  Cardinals-17 Saints-27
I like Rob Ryan's new defense-a lot.  It's easy to forget how absolutely terrible the Saints' defense was last year:  Record-breaking bad.  Now, they hold offenses like Atlanta to 20 points or less.  The Cardinals are indeed much improved, but they are also very much a work in progress offensively.  The Saints get it done in the Dome.
Tampa Bay @ New England:  Buccaneers-14 Patriots-31
There is a lot of buzz about the Buccs defense matching up well with the limited Patriot offense. Whether that's true or not is irrelevant–Tampa is the most undisciplined team in the NFL, and no one on the team has much faith in the man under center. Whereas, New England is of course one of the most fundamentally sound.  How else did you think they were getting it done with Brady, Wilfork, and 51 other dudes?  Tampa gets a garbage-time score, but New England wins in a blowout.
Green Bay @ Cincinnati: Packers-31 Bengals-21
This one is easier than most people have assumed.  The Bengals may be the more physical team, but unlike the Pittsburgh offense, A-Rod and Green Bay will make Andy Dalton pay for being a B-minus Quarterback with erratic play. The Packers are rolling, and although Lacy is likely out, Starks and the offensive line looked very solid against Washington.  A.J. Green will get his touches, as will the Tight Ends, but Rodgers is in too good of a groove to slow down.  On top of that, Cincinnati isn't exactly a hostile environment.  Packers get it done.
St. Louis @ Dallas:  Rams-23 Cowboys-20
Dallas has play-makers.  Dallas has defensive cornerstone players.  Dallas has the better quarterback.  What Dallas does not have is any football identity whatsoever. They do not run Murray when they should, they do not work it to Dez when he's in a groove (not to mention he's banged up) and Romo seems to turn into Matt Cassel at the worst times of a game. It's not likely that St. Louis' corners give the Cowboys' receivers any room at all. On the flip side, if the Rams have anything at all, it's a football identity:  Physicality.  They own the lines of scrimmage in this match-up, and edge out a win in the quiet Cowboys stadium.
Cleveland @ Minnesota:  Browns-9 Vikings-24
If you are in a survivor/eliminator pool, take the Vikes this week. Then again, if you needed me to tell you that, you're throwing your money away. It's evident that the Browns are tanking the season:  They bench a veteran with potential in Jason Campbell, and start some guy named Hoyer, and they just traded their best (and only) offensive weapon of note.  The Vikings could start the preseason roster and keep them out of the end-zone.  Adrian Peterson may not have the fantasy numbers that some of you are hoping for, but then again, don't be shocked if he does indeed tear them up.
Atlanta @ Miami:  Falcons-21 Dolphins-27
The upset of the week.  Atlanta's defense is simply overrated.  This group just does not intimidate anyone come game-time.  With Steven Jackson out, the one-dimensional Falcons offense will have their usual home-run plays, but the Dolphins have the ability to control the clock and their drives, and this not being in the Georgia Dome is a major factor.
Buffalo @ NYJ:  Bills-20 Jets-13
E.J. Manuel has more potential to make explosive plays happen than everyone on the Jets' offensive roster.  That is not an exaggeration. Mario Williams and Marcell Darius look more comfortable in the new Bills defense, and one can tell when watching Buffalo play that Manuel has the necessary leadership skills to get more out of the Bills than the Bills have to offer normally.
Indianapolis @ San Francisco: Colts-17 49ers-34

If you did not pick the Vikings or the Seahawks in your eliminator/survivor pool, this is your game.  While the addition of power back Trent Richardson is a perfect fit, the 9ers are angry.  The 9ers are angry and at home.  The 9ers are angry and at home and coming off of a loss under Jim Harbaugh, when they are nearly impossible to beat.  The Colts may have a solid offense, but their defense can be gashed and beat down by more physical teams.  If San Francisco is ever going to actually get back to hard-nosed, Frank Gore football, now is the time.
Jacksonville @ Seattle:  Jaguars-10 Seahawks-27
The Jags just don't have anything going for them.  Being emotionally drained won't hurt the Seahawks this week.
Chicago @ Pittsburgh:  Bears-23 Steelers-17
The Steelers are a dangerous team right now, because they are a very desperate team right now.  They may not be desperate from a standings perspective, but offensively, they are scrambling to get something–anything–going to move the ball.  Hey, speaking of scrambling, Roethlisberger will do quite a bit of that come Sunday night.  The Bears' offensive line is not as good as it's shown thus far, but unfortunately, the Steelers' line may actually be as bad as they've looked so far.  The Bears take advantage and edge out a win in a sloppy game.
Oakland @ Denver:  Raiders-20  Broncos-38
If I could tell Oakland's personnel one thing after they saw this pick, it would read something like "it's not you, it's Peyton."  That is how good Peyton Manning is looking right now.  I actually like what the Raiders are trying to build (mostly), but too much Manning for them under the lights.  Pryor, McFadden, and Jennings will all got their rushing yards, but Oakland just cannot keep up with the Sheriff.
-Ben Holmes, EIC