Your Destination is on the Right Track: Montgomery College's Applied Geography, Cartography, and Geographic Information Systems Programs
A Continuation of the Advocate Series on Reporting the Lesser-Known Departments of Montgomery College.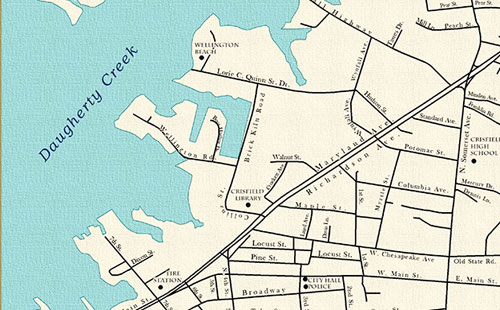 "If you're looking at a tree, what type of tree you're mapping? Is it an oak tree? Do you know the age?" Professor Tanya Allison explains the type of questions fueling student research projects in the Advanced Geographic Information Systems Program classes at Montgomery College. Creating maps, geoprocessing, or spatially analyzing, the evolution of civilization, and mapping natural happenings are specialized hard skills acquired by the spatial analysts who graduate from Montgomery College's Advanced Geographic Information Systems (GIS) Program.
Researching deforestation, hurricane seasons, and wildfire predictions to gain control of damage before it happens, are just some of the subjects GIS students focus on at MC. Alumni Stacy Wong and Chiaki Wu recently graduated and upgraded to advanced GIS coursework at the professional level. Other notable Montgomery College GIS alumni include Mark Weinshenker, Ph.D., GIS Manager at the Department of Information and Technology; Linda Stewart, a civil engineer at the Federal Energy Regulatory Commission; and Salem State University's Michael Crittenden.
Professor Allison clearly describes the coursework as, "Learning, 'what is GIS?' How to manage the different data sets; how to create maps using what they've learned in [GEOG 240] Intro to Cartography; how to classify [and] label features on a map. We also run through some geoprocessing and how to buffer different features. In the advanced, we look at some extensions on network analysis, spatial analysis, and 3D analysis."
Lessons in GIS skills "set students up for success", according to Professor Allison, within a uniquely active sector.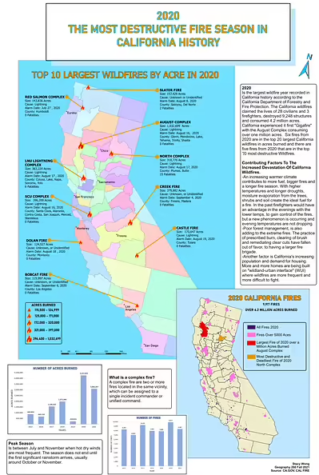 The project above is a small but mighty representation of Geography's practical applications. Here, students tackle biodiversity, climate change, and urban planning complications by tracking the destruction of 2020 Californian wildfires.
National Aeronautic and Space Agency (NASA) Interns, marketing managers, retired city of Rockville employees, Federal Aviation Administration (FAA), Remote Sensors at National Oceanic and Atmospheric Administration Agency (NOAA), marine scientists, and burnt-out engineers seeking a career change are just a taste of the GIS Student Body. Tanya Allison, Professor and Program Coordinator of the Applied Geography Program at Montgomery College in Rockville, is proud of the flourishing state as well as the satisfaction of her cartographers-in-training.
Linda Stewart, a civil engineer and MC Geography 260 and 270 alumni, circa 2018, attests, "GIS can be applied to so many fields (including) archeology or environmental resource management, and the size of the class has less than 15 students (who) do a lot of collaboration."
Stewart's fondest memories of the GIS courses? First and foremost, ArcMap, a geospatial solution tool applied both to weekly and term projects. Additionally, Professor Tara Wallace – a "real world practioner" – solidified the classes. Stewart claims geography peaked her interest as a brand new field "just to feel it out".
The students' climate and nautical maps, such as the one seen above, are completed at private and government agencies. Montgomery College has a high volume of students who intern in such places due to its vast alumni network. Interesting projects have included mapping military cemeteries, vacation routes, and ecological disasters. Coursework in the GIS Program includes a lab aspect, Python lessons, ArcGIS Pro Extensions projects, Network Analyst, Spatial Analyst, and 3D Analysis.
The Spring 2022 schedule for geoprocessing students included lessons in Python, spatial analysis, and geocoding, and met remotely in the evenings. Summer and Fall 2022 students may seek out the schedule themselves for similar courses.