Through The Red Gate: A Woodblock Print Exhibition by Artist/Professor Amanda Miller
"Through The Red Gate", a remarkable woodblock print exhibition that portrayed the love of nature of an artist from the prints themselves, to the materials used to create them.
Amanda Gordon Miller, an artist and professor of design, printmaking and drawing at Montgomery College, discussed her artwork and did a live demonstration of the woodblock printmaking process in the Sarah Silberman Art gallery on Dec. 1.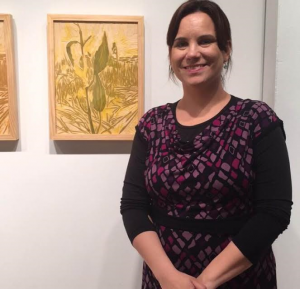 The woodblock exhibition featured many aspects of nature. Her work spoke to the overall appreciation of nature which stems from her childhood memories of time spent outdoors.
Miller's love for the outdoors as a child and her need to reconnect with that feeling as an adult has aided her in creating an outstanding collection of nature interpretations.
Miller noted that she commits herself to a non-toxic art practice, which includes materials and techniques to ensure a safer environment. In her woodblock prints she used a soy-based ink called Akua Intaglio. In pulp-paintings, Miller uses natural paper fibers, such as cotton and abaca.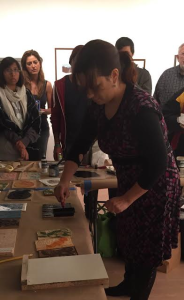 Miller's landscape print entitled "Fairy Woods in Winter" was inspired by a photograph her grandmother had taken of their family's property in central Illinois. The piece captures the serenity of the property's landscape with sunlight peering through the backdrop of the dark leafless trees on a snowy day in the misty woods.
She creates multiple versions of the same landscape to show the scenery from different times as the seasons change. Miller demonstrated this technique by employing different paints to print images from the pre-craved woodblock.
If you want to experience Millers love for nature, the Through The Red Gate woodblock print exhibition is open to view until Dec. 11 in the Sarah Silberman Art gallery of the Paul Peck Art Building.