"How We Lost D.C.": An Exhibition at the Honfleur Gallery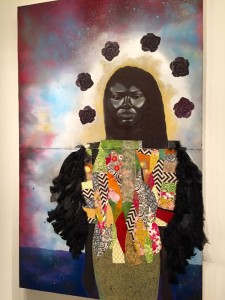 The artists of Delusions of Grandeur collaborated on a visual discourse centered on gentrification entitled How We Lost D.C. The mural was a part of a collective exhibit at the Honfleur gallery in Anacostia. Each artist created separate works for the gallery that presented a range of perspectives on the cultural, economic, and physical redevelopment of the nation's capital.
This dynamic union is made up of six African American visual artists. The works of Wesley Clark, Larry Cook, Jamea Richmond-Edwards, Shaunte' Gates, Amber Robles-Gordon, and Stan Squirwellwho were exhibited at the gallery.
The artisits share a universal urge to express their individual viewpoints on the societal displacement and replacement that has occurred throughout the District.
Their works all appear to be cohesively designed to raise several thoughts one might consider about the process of gentrification and its effects on Washingtonians's by examining the subject from many angles.
Jamea Richmond-Edwards represents both the trauma of loosing ones self and the strength it takes to gain consciousness by depicting allegorical women with peculiar metallic skin. The monumental avatars stand before an intergalactic background as they gaze back at the viewer with a knowing awareness. A variety of feathers are employed to create wings which insinuate the condition of being spiritually adrift – a state of being that Richmond-Edwards has ascribed to the African American identity.
Wealthy individuals have bought and renovated houses and stores in impoverished or deteriorated urban neighborhoods, which increases property values so that low income families and small businesses can no longer afford to reside in their own domains. Most of the individuals being displaced are African American. As presented by the artists of Delusions of Grandeur, gentrification also effects D.C's cultural and landscape reputation.
"When I think about How We Lost D.C, I think about how we lost a community and a strong sense of togetherness, not landscape," said visual artist Larry Cook In an explanation on the meanings behind his artwork at the Honfleur gallery.
Cook's contribution to the exhibit delivers a conceptional look at black economics. Hundreds of lottery tickets, unsuccessful scratch-offs, and receipts are strategically spread out across the floor and on a counter top. An old neglected broom rests up against the wall as if to depict unkept conditions. The entire scene gives an overview to the lived experience of poverty and the system that has induced it.
The former region known as "chocolate city" was coined by the black population who once entirely occupied the gentrified areas. The quote derived from a widespread sense of pride and belonging one can inadvertently feel through the presence of being completely surrounded by people of their own ethnicity.
Conversely, the population shift in D.C has resulted in a remarkable outbreak of diversity. People's ethnic backgrounds tend to merge if they are open-minded or consistently exposed to unconventional phenomena. Culture is an ongoing process that changes down the path of personal life experiences. The city's societal replacement has given people of different cultural backgrounds an opportunity to explore the qualities of each other's upbringings.
Others feel that the city's landscape should be the more prominent focus when we ponder the "lost" feeling that DC natives have endured. The major increases in property taxes have struck low income black families with the unexpected dilemma of trying to find residency elsewhere. Imagine being forced to relocate from the memory filled neighborhood that you were so comfortably accustomed to.
On the other hand, land developers have greatly improved D.C's appearance and property value by tearing down depleted or abandoned buildings and replacing them with new businesses. This redevelopment also brings forth more job opportunities as well as a great deal of revenue to the city.
All the makings of these transformations both positive and negative have affected multiple urban areas throughout the East coast. All in all, humans are attracted to both consistency and change which means that gentrification provides people with attributes that can be revolutionary and innovative as well as discomforting and unfamiliar.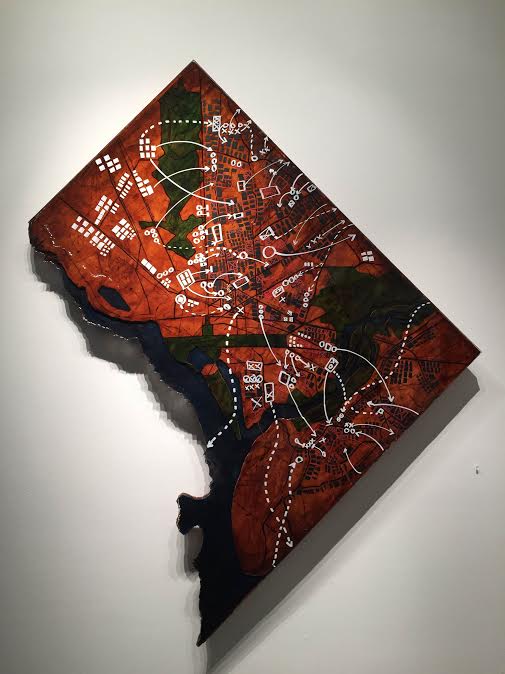 If you'd like to visit the free exhibition, you can contact them here:
1241 Good Hope Road SE.
202) 365-8392